An international fund started by Hungarian-born billionaire George Soros stated Monday that it has filed applications to the European Court of Human Rights and Hungary's Constitutional Court to counter the recently adopted legislation, commonly referred to as "Stop Soros," targeting volunteers working with refugees and asylum-seekers.
"The tax law is so broadly written that the Hungarian government could target virtually all funding for rights groups and civil society even if a small portion of the funding goes to migration," James Goldston, director of the Open Society Foundations' legal team, said from New York in a telephone interview with The Associated Press.
He noted he hoped the ECHR would deal with the case "sooner rather than later" due to the "critical" situation in Hungary.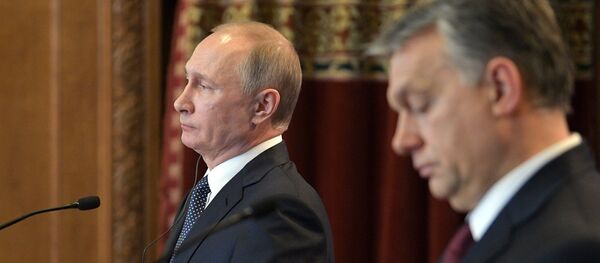 18 September 2018, 12:55 GMT
The Hungarian law, dubbed "Stop Soros," essentially places restrictions on NGOs and criminalizes assisting undocumented migrants. It thereby stipulates imprisonment for up to a year for helping unregistered asylum seekers. Lawmakers also passed a constitutional amendment barring any "alien population" from being settled in Hungary.
In December 2015, the European Commission launched an infringement procedure against Hungary with regard to the country's asylum legislation — adopted by the parliament in July and September 2015 — saying that it was incompatible with EU law in several instances.
However, several years later, the European Commission decided to refer Hungary, as well as the Czech Republic and Poland — countries which have criticized the EU system of mandatory migrant relocation quotas — to the Court of Justice of the EU "for non-compliance with their legal obligations on relocation."
READ MORE: Hungary to Continue Energy Cooperation With Russia Despite US Sanctions — FM
The controversial system of migrant relocation quotas was introduced in 2015 amid an intensifying migration crisis in Europe triggered by the influx of crowds of refugees fleeing multiple crises in the Middle East and North Africa.