The Trump administration, Axios reported on Monday, plans to launch both symbolic and substantive countermeasures against China in the next few weeks, sources in the National Security Council, Treasury, Commerce, and Defense said.
READ MORE: More 'Bullets' for China: Trump Threatens Beijing With New Retaliatory Measures
The administration is supposedly calling out China for "malign activity" including cyberattacks, election interference, and industrial warfare, and claims to have data to support the charges. Additionally, the accusations will be followed by new information about how China has infiltrated the American public and private sectors.
 "We are going to show how the Chinese have infiltrated the US and what we are doing to counter it," the source said.
The extent of Trump's new push on the Chinese economy wasn't stated. However, Goldman Sachs analytic, in a report published on Sunday, said that there is a possibility that all imports of Chinese goods will be slammed with tariffs, and the tariffs are going to rise as well.
"Following President Trump's threat of further escalation, we now think the probability that all imports from China will ultimately be subject to tariffs has risen to 60 percent," the bank's analysts wrote in a research note.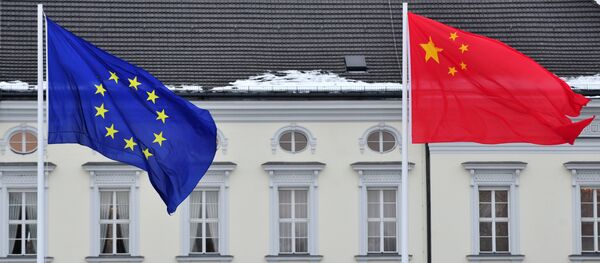 22 September 2018, 02:45 GMT
Last year, the American economy absorbed more than $500 billion in Chinese goods, compared to $130 billion in US exports to China – an imbalance Trump vowed to change. Goldman suggested that in order to do so, all Chinese goods and services crossing the US borders may become subject to tariffs.
On Sunday, Secretary of State Mike Pompeo addressed the businessmen and corporations who worried about the potential damage of the sanctions introduced on the Chinese goods last week, Fox News reported.
"We're going to get an outcome which forces China to behave in a way that if you want to be a power – a global power, with transparency and the rule of law –  you don't steal intellectual property  (and respect) the fundamental principles of trade around the world: fairness and reciprocity," Pompeo said, adding that these are the things American people are "demanding" and "deserve."
The last set of sanctions, introduced on September 17, takes effect on Monday. It imposes 10% tariffs on $200 billion worth of Chinese goods. On January 1 the tariffs are expected to rise to 25%.