"The engine operator was detained yesterday. Authorities continue interrogating the crew," Nikolai Sukhanov said, adding two more crew members would be called to testify starting September 26.
The ship, Palladiy, was impounded for failing to pay wages in the South Korean port of Busan. The vessel left the port because of the approach of the typhoon and should have returned on August 28.
READ MORE: Busan Marine Police Prolong Probe Into Detainment of Russia's Palladiy Vessel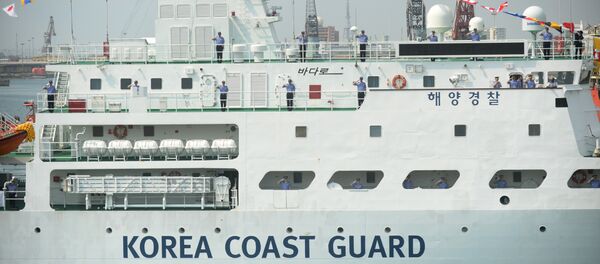 28 August 2018, 06:36 GMT
Instead, it attempted to leave South Korea without filing the necessary documents. The ship did not stop, despite demands of the Coast Guard. It was stopped only after the helicopter was called up and the landing was launched.
The ship's captain, the senior mechanic and one of the sailors were detained earlier together with its owner. Sukhanov said a crew of 12 remained on board. A second mate and another mechanic were yet to testify.