Daesh terror group* used chemical weapons during the fighting in Syria and Iraq. This was stated on Wednesday by French President Emmanuel Macron, speaking at a United Nations Security Council meeting devoted to countering the proliferation of weapons of mass destruction.
"ISIS [Daesh] used such weapons in Syria and Iraq," he said, referring to the situation with the spread of chemical weapons in the destabilized civil war of Syria.
READ MORE: Macron: France Ready to Conduct New Strikes on Syria if Chemical Weapons Used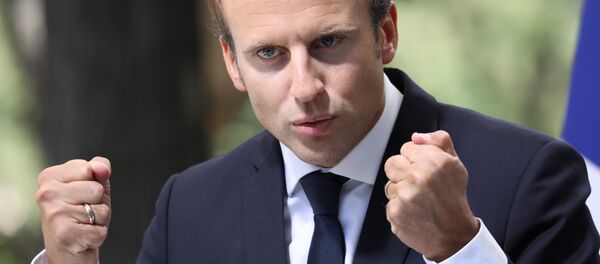 25 September 2018, 19:47 GMT
The previous week, member of the Syrian parliament Ahmad Kuzbari told Sputnik that the White Helmets and militants in Syria's Idlib were planning to film a false flag chemical attack in an attempt to mar the Syrian government.
French President also added that the international community must develop a long-term strategy for dealing with Iran that does not rely only on sanctions and containment, French President Emmanuel Macron said on Wednesday during a United Nations Security Council meeting.
"I think that we need to build together a long-term strategy in order to manage this crisis and it cannot boil down to just sanctions and containment," Macron said.
*Daesh is a terror organization banned in Russia, US and many other countries.