Judge Nicholas Hilliard QC considered allegations Robinson — real name Stephen Yaxley-Lennon — "published a matter likely to cause contempt of court" during ongoing trials in Leeds. Robinson was originally jailed for 13 months in May over a Facebook Live video he broadcast from outside the city's crown court, but the ruling was overturned in August, and he walked free.
However, Court of Appeal judges ordered a rehearing, saying his alleged offenses were "serious" and potentially deserving of a sentence "longer than that already served". Their judgment found Robinson may have committed contempt both by violating reporting restrictions and with "generally prejudicial remarks", including on the "ethnic and religious backgrounds of defendants". They also accused the former English Defense League leader of breaching the conditions of a three-month suspended sentence he received for a separate contempt offense in Canterbury, Kent in 2017.
In a video posted to his Facebook page on September 20, Robinson vowed that in court, he wouldn't apologize or admit guilt, and said he expected to be returned to jail.
On the stand, Robinson argued was a "public interest in what's going on", and said "I'm very anxious that what happens in these proceedings…could be reported fully and contemporaneously".
In response, Judge Nicholas Hilliard adjourned the hearing, and did not fix a date for a continuation, but suggested it may reconvene October 23.Contempt of court laws are designed to ensure fair trails in the UK, by ensuring juries aren't swayed by information published and/or broadcast before or during a hearing. Such offenses are subject to 'strict liability rules', meaning intent and knowledge of committing them don't need to be proven to secure a conviction.
Planned Protests
Protests have been organized by Robinson's supporters outside the Old Bailey, and over 1,500 people have indicated they will be attending on Facebook — a counter-demonstration has attracted just 160 supporters. There are indications a number of pubs adjacent to the court will close for the day following advice from authorities.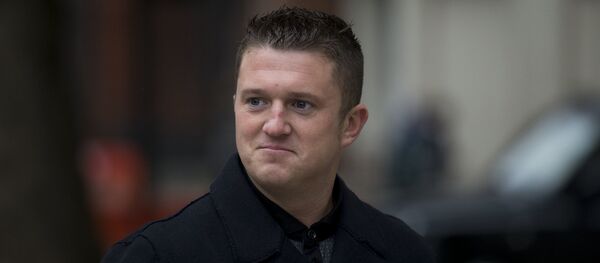 10 September 2018, 15:06 GMT
A significant police presence is expected, as two prior 'Free Tommy'
protests in London
 resulted in violent disorder and numerous arrests — in June, riot police were deployed to a demonstration in Whitehall calling for Robinson's release, and in July, 12 were arrested at another pro-Robinson protest that coincided with a visit to the UK by Donald Trump.
Robinson's case has become a cause celebre for right-wing activists the world over, with the US think tank Middle East Forum funding his legal defense and playing a leading role in arranging supportive protest actions, and Dutch Freedom Party leader Geert Wilders calling Robinson's release a "victory for free speech". Allegedly, US President Donald Trump's ambassador for international religious freedom even lobbied Whitehall for Robinson's release.