US sanctions against Russia are limited to individuals and businesses, instead of economic sectors, because the Russian economy is simply too large and well-integrated into the world economy to do otherwise, Marshall Billingslea, assistant secretary for terrorist financing, has told lawmakers.
"Russia stands apart from other countries subject to broad US sanctions in several important ways, and we have tailored our approach accordingly," Billingslea said in testimony before the House Financial Services Subcommittee on Monetary Policy and Trade on Wednesday.
"We cannot, for example, counter Russian aggression in the same way we approach countries like North Korea or Iran. Russia's economy is large and well-integrated into the global economy, international financial system, and global supply chains," the official lamented. "North Korea and Iran, on the other hand, have been largely or almost entirely isolated from the global financial system for decades," he added.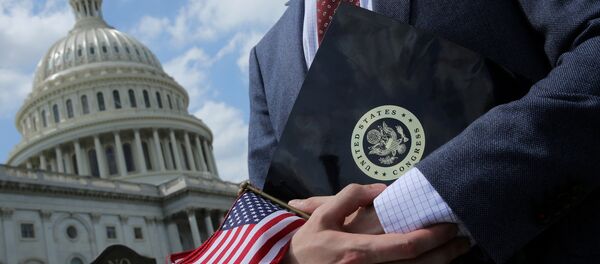 27 September 2018, 14:46 GMT
According to Billingslea, the Treasury has instead "surgically deployed" certain tools "to maximize pressure on Russia while minimizing unintentional spillovers to the United States, our European allies, and the global economy."
The official boasted about the impact of the imposition of sanctions against Russian business magnates and their key assets, which he said has resulted in a major drop in stock prices for these companies in international markets, and a decline in these individuals' estimated wealth.
"Since January 2017, the Administration has sanctioned 232 Russia-related individuals and entiies, 215 under Treasury authorities," Billingslea reported. "136 were designated under Ukraine/Russia-related sanctions authorities codified by the Countering America's Adversaries Through Sanctions Act, or CAATSA." The official also boasted of sectoral sanctions on dozens of Russian firms and entities since 2014.

25 September 2018, 13:34 GMT
Ultimately, Billingslea noted that while the Treasury's Russia sanctions program was its "most active," "the scale and sophistication of Russian malign activity is far more advanced than that of other states currently subjected to broad US sanctions," meaning that "in certain circumstances, other tools will either complement or far more effectively advance our national security interests in countering Russian aggression."
Earlier this month, the International Monetary Fund projected 1.7 percent economic growth for Russia in 2018, and 1.5 percent growth in 2019, respectively. Russia, the IMF says, is recovering from the 2015-2016 recession due to effective government policy and high oil prices. Also this month, the Russian Central Bank projected 1.8-2.3 percent GDP growth in 2020 and 2-3 percent GDP growth in 2021.
Russian officials, including Foreign Minister Lavrov, have stressed repeatedly that the US's sanctions policy would not lead to any long-term success, and said that they have only served to push relations between the nuclear superpowers into a "stalemate."