Sanders shared the statement via Twitter. It reads: "I've ordered the FBI to conduct a supplemental investigation to update Judge Kavanaugh's file. As the Senate has requested, this update must be limited in scope and completed in less than one week."
Kavanaugh accuser Christine Blasey Ford has welcomed the investigation, according to her lawyer, Debra Katz. "No artificial limits as to time or scope should be imposed on this investigation," the lawyer said in a release obtained by Reuters.
Trump's remarks come after US Senator John Cornyn (R-TX) told reporters that Senate leaders agreed to put off a vote on Kavanaugh's nomination for one week for a "supplemental background FBI investigation." The Senate Judiciary Committee, tasked with giving the green light to the nominee's confirmation, released its own statement earlier on in the day, noting that the investigation "would be limited to current credible allegations against the nominee."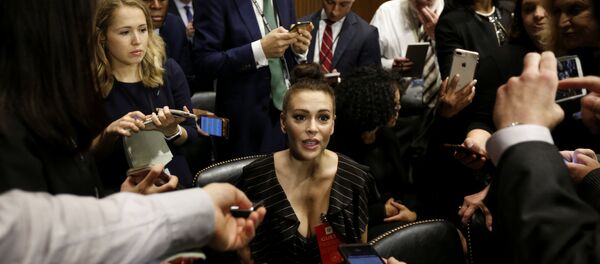 28 September 2018, 12:25 GMT
Kavanaugh has since stated that he is willing to cooperate with the FBI probe.
The latest developments come just one day after Kavanaugh and Christine Blasey Ford, who has accused the nominee of sexually assaulting her in the 1980s, sat in front of the Senate Judiciary Committee to offer their testimony on the allegations. Ford has stated that while at a gathering in high school, Kavanaugh and his friend Mark Judge shoved her into a bedroom, where Kavanugh proceeded to pin her down and silence her calls for help before she was able to run away into a nearby bathroom. Kavanaugh faced criticism during and after his testimony on Thursday for refusing to explicitly call for or endorse a further FBI investigation into the allegations against him. 
Both Kavanaugh and Judge have denied the incident ever took place.
At least three other individuals have come forward with allegations of sexual misconduct by Kavanaugh.