The city hosted a demonstration of pro-independence protesters on Saturday as well as a rally of the Jusapol police association calling for a pay raise for police officers. A group of supporters of the region's independence tried to head toward the police rally, but security forces attempted to block the road which led to the clashes. Also, clashes between protesters occurred in different places of Barcelona.
A total of 19 people received medical help on the spot, while the condition of one person was assessed as moderately severe.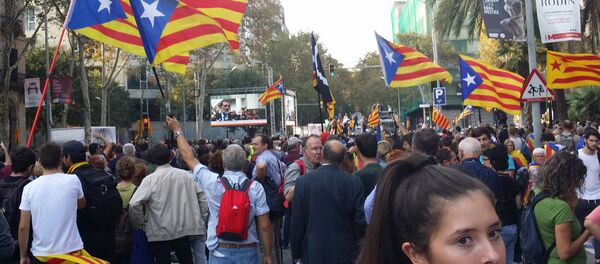 29 September 2018, 16:14 GMT
In addition, the police said that six were detained as a result of the clashes.
The October 1, 2017 independence referendum resulted in some 90 percent of voters supporting Catalonia's secession from Spain. On October 27, 2017, the Catalan government proclaimed the region's independence, however, the Spanish government refused to accept the results of the referendum and imposed direct rule over Catalonia, dissolving the Catalan parliament and striping the local government of power.