"Despite the ceasefire regime being established throughout the country, there are still cases of ceasefire regime violation by illegal armed formations in the Idlib de-escalation zone. Over the past day they attacked Ruseyt Iskander (three times), Nahshabba, Jubb al-Zazur in Latakia province, and settlement al-Salyumiya in Hama province. Besides, there were shelling attacks against Tadef, Aleppo province, from Turkish-backed formations seizing positions near the town of al-Bab," the center said in a statement.
READ MORE: Russia's S-300 Systems 'Enough' to Respond to Israel's Threat — Syrian FM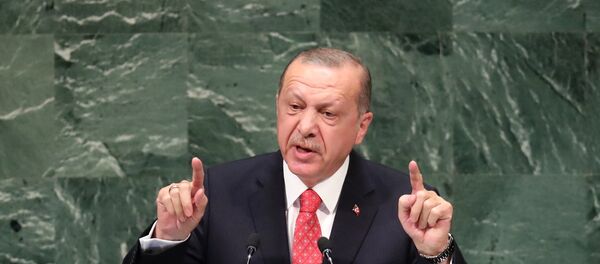 2 October 2018, 09:25 GMT
Over the past 24 hours, the center has held a humanitarian operation in the settlement of Hatlah, Deir ez-Zor province, providing local residents with 450 food sets, according to the statement.
The center also distributed a tonne of fresh-baked bread in the Ansari Mushahad district of the city of Aleppo and delivered 500 backpacks with school supplies to Jisreen, Eastern Ghouta.
The statement called on the leaders of illegal armed groups operating in the Idlib de-escalation zone to cease hostilities and join the peace process.
The Idlib de-escalation zone is one of the remaining pockets of insurgency in the Arab republic. On September 17, Russian President Vladimir Putin and his Turkish counterpart Recep Tayyip Erdogan signed an agreement on setting up a 9-12 mile demilitarized zone in Idlib along the contact line of the armed opposition and the government forces by October 15. According to the agreement, all heavy weaponry operated by rebel groups must be pulled out of the demilitarized zone by October 10.