French diplomatic sources said on Tuesday they have no doubt of Iran's involvement in the attack staged on June 30, Reuters reported.
READ MORE: US Wants Alleged Secret Nuclear Sites in Iran Investigated — Report
"Behind all this was a long, meticulous and detailed investigation by our (intelligence) services that enabled us to reach the conclusion, without any doubt, that responsibility fell on the Iranian Intelligence Ministry," he said, adding that "we cannot accept any terrorist threat on our national territory and this plot needed a firm response."
The source added that deputy minister and director general of intelligence Saeid Hashemi Moghadam had ordered the attack to be conducted by a Vienna-based Iranian diplomat, Assadollah Asadi. 
"We deny once again the allegations against Iran and demand the immediate release of the Iranian diplomat," Iranian foreign ministry spokesman Bahram Qasemi said to the state news agency IRNA. He also added that the whole incident was a plot "designed by those who want to damage Iran's long-established relations with France and Europe."
The foiled attack targeted a meeting of the Paris-based National Council of Resistance of Iran (NCRI) that featured US President Trump's personal lawyer Rudy Giuliani, and several former European and Arab ministers as guests.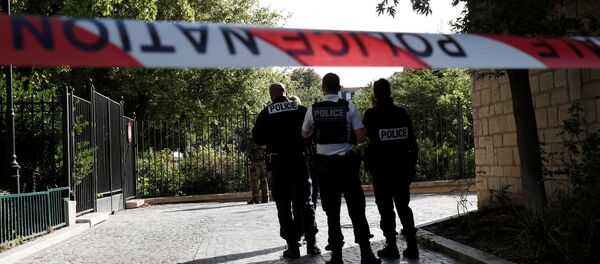 2 October 2018, 09:23 GMT
The French Foreign Ministry, the French Interior Ministry, and the French Economy Ministry released a joint statement saying they had decided to freeze Assadi's assets as well as the assets of the internal security section of Iran's Intelligence Ministry.
French President Emmanuel Macron and Foreign Minister Jean-Yves Le Drian spoke to Iranian Foreign Minister Mohammed Javad Zarif in a bilateral meeting during the recent United Nations General Assembly, without reaching any particular agreement. 
Earlier in August, the government had reportedly released a diplomatic memo for its Foreign Ministry advising French diplomats not to travel to Iran. Paris had also considered nominating a new ambassador to Iran and never responded to Iranian nominations for diplomatic positions in France.