Even though the allegations by the US and NATO of Russia's alleged breach of the Intermediate-Range Nuclear Forces (INF) Treaty have not been supported by evidence, Jens Stoltenberg appeared fully prepared to deal with the matter.
"I expect that this issue will be raised at the Defence Ministerial. It was discussed at the Summit in July, and now we are following up with a clear message to Russia that they have to come into full, transparent and verifiable compliance of the INF Treaty. That's our focus now, and we'll continue to push for that," Stoltenberg said during his doorstep statement at the Defense Ministers Meeting in Brussels on October 3.
Violations of the INF Treaty highlight the importance of intelligence and the need for NATO to ensure "effective, verifiable arms control," Stoltenberg told reporters.
He called the treaty a cornerstone of European security and recalled an arms race in Europe back in the '70s and '80s.
He accused Russia of not complying with the INF treaty in a "transparent and verifiable way," which led the alliance to believe that Moscow is breaching the agreement.
The North Atlantic Alliance is convinced that Moscow started deploying ground-based cruise missiles 9M729 (NATO designation SSC-8) allegedly in violation of the INF treaty.
"A missile they for a long time denied existed, now they have admitted that the missile exists, and therefore we have called on them to answer our questions. And as long as they don't answer our questions, the most plausible conclusion is that this is a violation of the INF Treaty," Stoltenberg said.
Russia's Foreign Ministry, however, stressed that the 9M729 missiles correspond to Russia's obligations under the INF Treaty and have not been upgraded and tested for the prohibited range.
The Russian Defense Minister also pointed out that the US was in violation of the Cold War era agreement by deploying in Europe missile defense system, whose launchers might be used for firing Tomahawk cruise missiles at the European part of Russia's territory.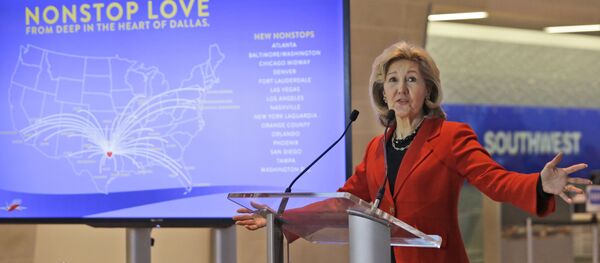 3 October 2018, 00:44 GMT
Earlier this week, US Envoy to NATO Kay Bailey Hutchison threatened to "take out" banned cruise missiles allegedly in development in Russia before they become operational. Following the statement, Hutchison had to explain herself and said she did not intend to threaten a preemptive military attack on Russia.
READ MORE: 'I Was Not Talking About Preemptively Striking Russia' — US NATO Envoy
"The Ambassador clarified that what she meant was that it is important that Russia complies with the INF Treaty," Stoltenberg responded when queried on the meaning of Hutchison's statement.
Financial contribution by members, strengthening NATO's deterrence and defense, setup of a new Cyber Operations Centre and NATO-Georgia Commission are included in the itinerary of Defense Ministers attending the NATO summit in Brussels.