On Tuesday, Republican members of the Senate Judiciary Committee released a statement by former Democratic congressional candidate Dennis Ketterer who said he was involved in a brief relationship with Kavanaugh accuser Julie Swetnick in 1993, The New York Times wrote.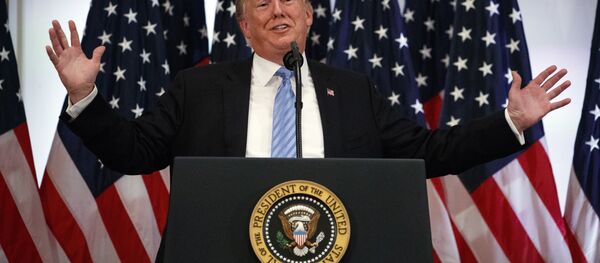 3 October 2018, 05:10 GMT
Last week, Swetnick said Brett Kavanaugh was present at a house party in 1982 where she was allegedly the victim of a gang rape, a claim Kavanaugh denies.
In his statement, Ketterer said Swetnick once told him that she sometimes enjoyed group sex with several men but had "never mentioned Brett Kavanaugh in any capacity."
Ketterer described Swetnick as "smart, fun, funny" and an "an opportunist" who sought him out at the bar where they first met.
"I felt she only had interest. . . because I was on television and well-known," he said.
Swetnick attorney Michael Avenatti dismissed Ketterer's statement as "bogus and outrageous" and called for the FBI to question Swetnick and Ketterer to determine which of them is lying.
Brett Kavanaugh has been accused of sexual assault by two other women, including California professor Christine Blasey Ford, who testified before the Senate last week about an incident she said happened when both were teenagers.
Kavanaugh denies all the claims of misconduct.
Also on Tuesday, a written declaration made by Ford's ex-boyfriend said that she neither mentioned Kavanaugh nor mentioned she was a victim of sexual misconduct during the time they were dating from about 1992 to 1998.
READ MORE: Kavanaugh Testimony May Haunt Him As Supreme Court Justice
On Friday, members of the Senate Judiciary Committee voted in favor of Brett Kavanaugh's nomination but a full Senate vote on confirmation was delayed for a week after President Donald Trump bowed to pressure from moderate members of his Republican Party for an FBI probe.
On Tuesday, Trump voiced guarded optimism that his Supreme Court nominee Brett Kavanaugh would soon be confirmed, despite the delays and scandals plaguing a confirmation process he once believed bulletproof.