"US President [Donald] Trump is saying that he wants reunification without using America's money whereas [South Korean President] Moon Jae-in wants to use Korea's money for reunification, but the Korean public doesn't really know this, and when they find out about it, there won't be many Koreans who will agree to it," Cho said on Tuesday.
Cho pointed out that "people are not really thinking about the cost of this," but will start thinking if reunification occurs.
"Afterward, the next step is ratification by the National Assembly, but that has not happened yet as well. When the details come out, such as the money issue, under what terms people are thinking about reunifying and all that, most Koreans will be against it," Cho said.
READ MORE: North Korea Supports Seoul's Idea to Hold First Inter-Parliamentary Meeting
Cho emphasized, however, ambivalence regarding cost does not mean that the people in South Korea do not want reunification to take place.
"Nobody would disagree that we all want to reunify, but the actual question here is reunification under what terms? Is it under the liberal democracy as the Republic of Korea wants it or is it reunification under socialism as advocated by North Korea?" he said.
Cho said he thinks reunification will take place, but South Koreans do not want reunification under communism or socialism.
"We want reunification under liberal democracy, and this is what the world agrees as well," Cho said.
Cho noted that if North Korea were to give up its nuclear weapons program, they will need to start thinking about food and basic necessities for the citizens.
"With the sanctions strengthening, we think that North Korea will give up their weapons, but the Moon Jae-in government is actually hindering this progress," Cho said.
READ MORE: S Korea's Moon Hopes US Will Resume Talks With North as Kim Ready for New Summit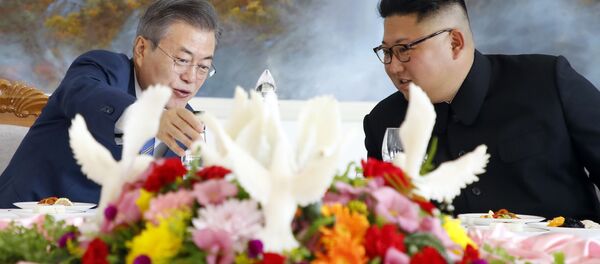 22 September 2018, 11:55 GMT
The situation on the Korean Peninsula has significantly improved since the beginning of the year with Moon and North Korean leader Kim Jong-un holding three bilateral meetings that resulted in a joint pledge to reach a peace treaty.
In June, Kim reached an agreement with US President Donald Trump stipulating that North Korea would make efforts to promote complete denuclearization in exchange for the suspension of US-South Korean military drills, as well as potential sanctions relief.