Businessman Andreas Ritzenhoff is reportedly mulling to challenge Merkel for the leadership of her Christian Democratic Union (CDU), which governs the country in a coalition with the Christian Social Union (CSU) and the left-leaning Social Democrats.
In an interview with the Funke newspaper group, Ritzenhoff, who is the owner of an aluminum making company, said that the CDU needs a "change of direction" and "new political aims."
"I'm worried about what's happening with Germany, Europe and the western world," he noted pointing to the threat he believes is facing the country's prosperity, security as well as "the freedom of culture and the spirit of our population."
Angela Merkel, who has been governing since 2005 and has led the CDU for the past 18 years, is expected to seek re-election as party leader during the CDU's upcoming congress in December.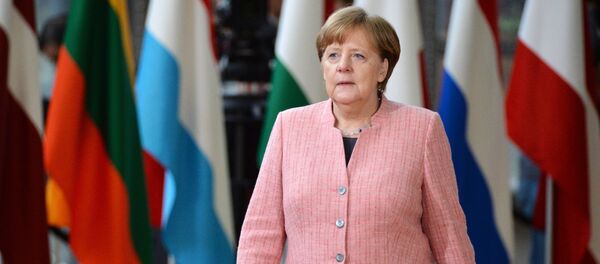 26 September 2018, 08:56 GMT
Merkel has seen her authority weakened of late by constant bickering in her "Grand Coalition" government and last week's rejection of her choice of caucus leader by fellow CDU MPs.
In July, Angela Merkel faced a major crisis after Interior Minister Horst Seehofer resigned in protest over her migration policy.
Merkel eventually managed to strike a deal with Seehofer, thus avoiding a breakup of her coalition cabinet.
The chancellor's open-door policy on migration, which has led to the arrival of more than 1.6 million migrants to Germany since the start of 2015, is seen as the main reason for the electoral success of the right-wing Alternative for Germany (AfD), now the main opposition party.
Public support for Merkel's coalition government of Christian Democrats and Social Democrats fell to historic lows in last year's election when the bloc won just 32.9 percent of the vote.
READ MORE: AfD Becomes 2nd Most Popular Party in Germany After Merkel's Bloc — Poll
The situation hasn't changed much since with a recent poll showing that a mere 28 percent of respondents approved of the government policies, while the anti-immigration AfD was in second place with about 16 percent.