"This will be a large meeting of the Greeks from whole Greece and the whole world. The Greeks from Russia will also arrive. The problems in the relations with Skopje at many levels will be discussed. The new data on the Prespa Agreement [on Macedonia's naming issue] will be presented. Famous Greek lawyers have prepared a legal opinion. Historians will tell about the origins of the problem. The problem of splitting the church in Skopje, which wants to separate from the Serbian Church, will be raised," one of the organizers of the meeting said.
READ MORE: Macedonia's Parliament Ratifies Deal With Greece on Renaming the Country
The nationwide conference will be held in the old parliament's building.
"All legal means of opposition to actions, that may threaten the national and sovereign rights of Greece, will be discussed," the organizing committee said.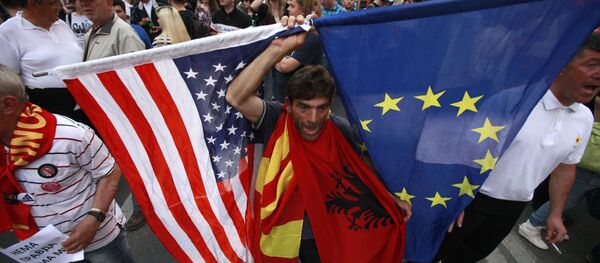 2 October 2018, 17:31 GMT
Greece and Macedonia, officially known as the Former Yugoslav Republic of Macedonia (FYROM), have been entangled in a naming dispute for years, with Athens opposing the use of "Macedonia," which is also the name of a region in Greece. The agreement on the new name for Macedonia – Republic of Northern Macedonia – was signed by Macedonian Foreign Minister Nikola Dimitrov and his Greek counterpart Nikos Kotzias on June 17. If ratified, the agreement will allow the renamed Macedonia to join the European Union and NATO, since Greece will no longer be blocking the process.
On Sunday, Macedonia held a referendum on the issue. According to the State Election Commission, 91.46 percent of voters chose to rename the country, while 5.65 percent voted against the agreement. However, the turnout amounted to just 36.91 percent, meaning that the referendum failed to secure the 50-percent turnout needed to be valid.