New Delhi (Sputnik): Astra, India's homegrown active radar homing, beyond visual range (BVR) air-to-air missile has successfully completed a series of developmental trials paving the way for induction in 2019, the Indian Defense Ministry announced on Wednesday.
The missile features a dual pulse rocket motor making it highly maneuverable during endgame engagement and thereby endowing the missile with a high single shot kill probability.
READ MORE: China Carried Out Several Dozen Hypersonic Arms Tests — US Missile Defense Chief
"The trials were a combination of complex tests for engagement of pilotless target in different modes of maneuvering, off-boresight, medium and long ranges. Astra has been tested six times under different launch conditions and ranges as part of the final development trial. The missile has engaged targets and all the mission objectives have been met," Indian defense ministry stated on Wednesday.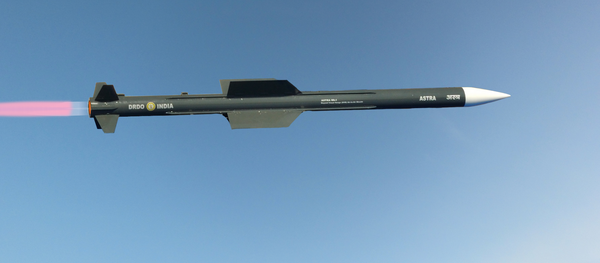 26 September 2018, 14:56 GMT
The missiles were telemetered for evaluation of the online performance of all sub-systems especially the data link, RF seeker and proximity fuse for end-game performance. The missile can engage targets at 90-120 km range when launched at a height of 15 km, 44 km range when launched at 8 km, and 21 km range when launched at sea level.
The Indian Air Force had put a request before Defence Research and Development Organisation (DRDO) to develop longer-range Astra missile as China is developing PL-15 with a 300 to 400 km long range. However, it is considered that long-range air to air missile like PL15 is primarily designed to target large radar cross section and not much effective against fighter jets like Su-30 MKI and Rafale.
READ MORE: China's Liaoning Aircraft Carrier Gets Superstructure Overhaul (PHOTOS)
"The distance at which an aircraft can be detected and tracked is based on its Radar Cross Section (RCS). Fighter aircraft with relatively low RCS have low detection and tracking range as compared to wide-bodied aircraft like AWACS, Flight Refuelling Aircraft (FRA) and Maritime Patrol Aircraft (MPA). Additionally, greater maneuverability of fighter aircraft reduces the Single Shot Kill Probability (SSKP) of a long-range air to air missile against them. Although it can be launched against a fighter aircraft but will have a low probability of success," Group Captain Kishore Kumar Khera of the Indian Air Force and a Research Fellow at the Military Affairs Centre in the Institute for Defence Studies and Analyses, New Delhi said.
The state-run DRDO has developed the missile and integrated the weapon on Su-30 and other air platforms. India's state-owned Bharat Dynamics Ltd (BDL) has already made arrangement to supply bulk orders ahead of schedule from its special production facility set up in the southern state of Andhra Pradesh.