Kees van der Pijl, a Dutch political scientist, fellow at the Centre for Global Political Economy and professor emeritus at the School of Global Studies at the University of Sussex, told Sputnik that he personally "would be very suspicious and look for similarities between the Skripal case and the OPCW affairs."
He went on to question the British and Dutch secret services' ability to know beforehand that people arriving in their countries "happily chatting" and "obviously showing very few signs of undercover behavior," "will commit certain acts." 
Professor Pijl stated that the UK and the Netherlands "have proven on several occasions" that they want to "raise the temperature of the new Cold War," in light of big parts of the EU being "more inclined to normalize relations with Russia," citing Germany, Hungary, Italy, etc., as examples.
"The timing of the UK accusations of Russian hacking, now this Dutch press conference, and the immediate joint statement of  May and Rutte all point to a well-prepared and closely coordinated action," Pijl went on to say.
He assumed that Russia may indeed take an interest in the specifics of the OPCW's operations and that "Russian agents may be active here" but he "can't imagine they are so clumsy as to arrive with all colors flying."
He said it is indeed "not unreasonable" to try to find out what the OPCW is engaged in, given that "this organization is under heavy pressure from the West to assist in keeping alive the 'Assad did it' story of gas incidents in Syria  (meant as a trigger for a major Western intervention there)."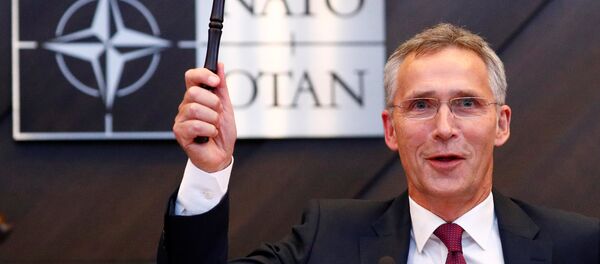 4 October 2018, 11:55 GMT
"To call that 'an attack on international stability' by countries who invaded Iraq (the Dutch agreed with that at the time), Libya etc. is a bold statement," the scholar rounded off.
On October 4, the Dutch Foreign Ministry said in a statement that the country's intelligence had thwarted a hacking attack on the OPCW, which was, allegedly, to be carried out by four Russian citizens. According to Defense Minister Ank Bijleveld, the suspected Russians, who had diplomatic passports, were expelled from the Netherlands on April 13.
READ MORE: Dutch, British 100% Correct Attributing Recent Cyberattacks to Russia — Mattis
NATO states called for Russia to "stop its reckless pattern of behavior," with the alliance's secretary general, Jens Stoltenberg, noting that in response, NATO will strengthen its defense against hybrid threats and cyberattacks.
The EU, in turn, expressed deep concerns over the cyberattack attempt and called it an act of aggression that undermines international law and institutions, according to a joint statement by the heads of the European Council, European Commission and EU diplomatic service. European Council President Donald Tusk announced that cybersecurity issues will be looked into at an EU summit on October 18, in light of the attempted attack on the OPCW.
A source with the Russian Foreign Ministry stated that there were no and there can't be any attacks on the OPCW on behalf of Russia, because Moscow already has access to the organization's files. He billed the Dutch accusations "an example of some Western states' policies reaching the point of bigotry." The ministry noted that Western "spy mania is gaining momentum."
The views and opinions expressed by Kees van der Pijl in this article are those of the speaker and do not necessarily reflect Sputnik's position.