Bryan Perry, 31, had been discharged honorably from the US Army and awarded a Purple Heart for his service in Iraq. But like many of his fellow former troops, he became addicted to drugs.
Perry was taken in for an alleged violation of his probation. He was booked alongside his girlfriend. As they were being separated, she yelled, "I love you Bryan!"
"I love you too," he told her, according to police records.
Clackamas County Jail staff filmed Perry as he tried to cope with his overdose, wailing and contorting. One report filed by a deputy said, "Perry was difficult to deal with due to the arm and leg movements, but Perry did not appear combative, just not in control of his body."
Staffers joked about putting Perry in a cage and wheeling him into classrooms as a lesson to students about the dangers of using drugs. "Yeah and the one kid [would say], 'That's my dad!'" one joked.
"Has he tried to eat anyone's face yet?" another asks.
Perry flails his arms throughout the video and falls out of bed.
One employee says that he has seen people "tweak like this for hours and hours."
"The laughter, substance, and tone of several comments heard from my employees in that video were inappropriate, and do not conform to our professional standards," Clackamas County Sheriff Craig Roberts said in a statement Thursday, adding that the comments were "callous."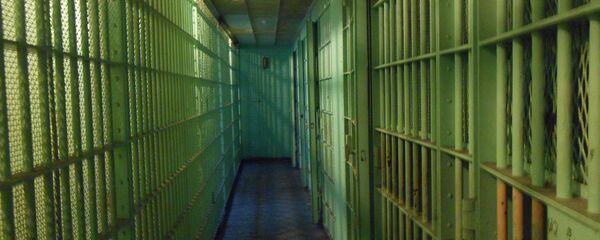 Roberts released the video, which was filmed by deputy Matrona Shadrin, who he says resigned before an investigation was kicked off. He added that the other deputies have been disciplined. Three nurses, one doctor and nine of the sheriff's employees were named in the lawsuit.
The lawsuit, filed by Perry's mother, says that nurses only checked on her son twice, spending fewer than five minutes with him on both occasions. The company that provides medical care for the jail, Corizon Health Inc., has a "nationwide pattern and practice of failing to properly treat jail inmates experiencing drug or alcohol overdose or withdrawal," the lawsuit says.
Sputnik News has previously reported on at least two scandals at jails Corizon services, including one which saw the death of a 25-year-old by dehydration and another in which a man died of diabetes-related complications after his insulin was taken away, despite him begging 28 officers and medical staff for help.
Companies like Corizon and Correct Care Solutions have in recent years become targets of criminal justice reform advocates over negligence-related deaths.
Data on in-custody deaths is extremely difficult to attain. One two states — Texas and California — mandate reporting on deaths in police custody.