In an energy market characterized by increasing gas demand and the United States' punitive sanctions, Russia and Iran have become strategic partners in the export and supply of hydrocarbons, Deputy Minister of Oil and CEO of the National Iranian Gas Company (NIGC) Hamid-Reza Araghi told Sputnik Persian on the sidelines of the Russian Energy Week, which took place in Moscow on October 3-6.
"Iran and Russia are two world gas powers," Araghi underscored. "If one looks at the British Petroleum's annual statistical reports, one would see that in some years Russia came out on top with its 34 trillion cubic meters of gas reserves, and in other years Iran carried the day. (Despite) being the richest countries in terms of gas reserves, we have not become competitors under current conditions."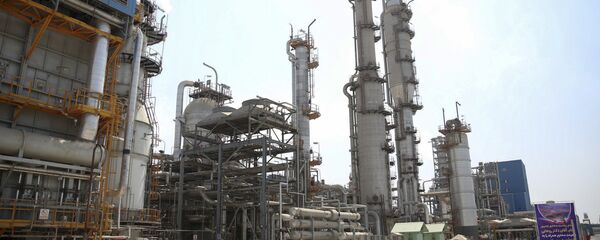 5 October 2018, 12:29 GMT
Moreover, the Gas Exporting Countries Forum (GECF), also known as the "gas OPEC," was established in 2001 in Tehran bringing together 11 of the world's largest natural gas producers. Araghi specified that while the gas cartel does not have the authority to determine gas prices on the market, "this association plays an effective role in establishing the gas strategy, the volume of production and consumption of the fuel in the coming years." He stressed that Moscow and Tehran remain partners within the GECF framework.
The deputy minister of oil highlighted that Iran needs to maintain close cooperation with the Russian Federation in various gas projects including the extraction, storage and supply of liquefied natural gas (LNG), as well as the development of gas technology. "Toward this end, Iran and Russia (Gazprom Corporation) created five committees two years ago to implement joint projects in the energy field in a variety of areas, including projects for the liquefaction of gas and its sale," he said.
"Over five years of close collaboration between Iran and the Russian Federation in the gas sector, a huge (volume of) research work had been conducted and technical knowledge obtained," Araghi underscored. "Iran independently produces an odorant mixture of natural mercaptans. This is a knowledge-intensive industry which is available in France, the United States, Russia, and maybe in some other countries."
He elaborated that additionally, Iran and Russia had held talks on the purchase and supply of gas turbines with a capacity of 16 MW. "Russia will be able to master the production of these turbines and commercialize it," the Iranian official noted.
© AP Photo / Iranian Presidency Office
In this photo released by an official website of the office of the Iranian Presidency, Sunday, April 30, 2017, Iranian President Hassan Rouhani, center, inaugurates a new refinery that produces some 12 million liters (3.17 million gallons) of gas in its first phase, in Bandar Abbas, some 750 miles (1,205 kilometers) south of Tehran, Iran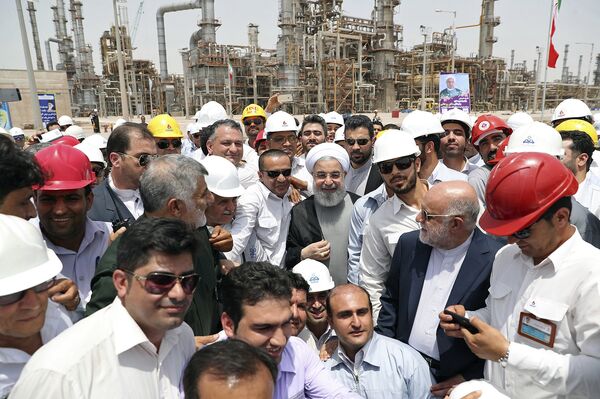 In this photo released by an official website of the office of the Iranian Presidency, Sunday, April 30, 2017, Iranian President Hassan Rouhani, center, inaugurates a new refinery that produces some 12 million liters (3.17 million gallons) of gas in its first phase, in Bandar Abbas, some 750 miles (1,205 kilometers) south of Tehran, Iran
© AP Photo / Iranian Presidency Office
Russia's Role in the Iran-Pakistan Gas Project
"Russian gas giant Gazprom is very interested in investing in Iran's oil and gas sector," Araghi continued. "Therefore, the most important project of the Russian-Iranian partnership at the regional level could be the construction of the Russian sea pipeline through Kish Island to deliver Iranian gas to consumers in Pakistan and India."
In late September, Moscow and Islamabad signed a memorandum of understanding (MoU) on implementing a project to build an underwater gas pipeline from Iran to Pakistan and India.
Commenting on the matter, the deputy minister of oil noted that if all the parties concerned reach a consensus "this will be the largest and most important project in the history of gas cooperation between Iran and Russia."
Trump's Sanctions Bring Moscow, Tehran Closer Together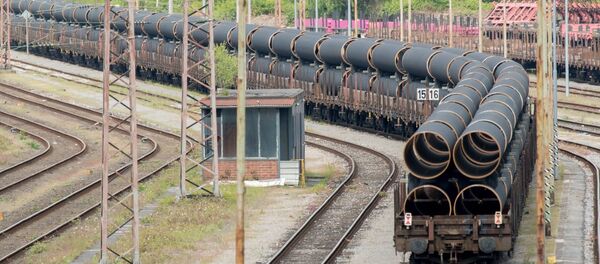 4 October 2018, 17:03 GMT
At the same time, the Iranian official opined that Washington's sanctions had facilitated Russian-Iranian rapprochement, adding that the countries could counter US pressure.
In May 2018 President Donald Trump unilaterally withdrew from the Joint Comprehensive Plan of Action (JCPOA) and announced the resumption of sanctions against the Islamic Republic. The final batch of sanctions targeting the IRI oil sector is due to come into effect on November 4.
"We have different tools to confront [this US pressure]," he said. "It is encouraging to see that [Russian President] Vladimir Putin did not embrace [the decisions of the United States] and at a plenary meeting, he declared Russia's firm position against unilateral American sanctions and the desire to continue to invest in the Iranian oil and gas sector."
According to Araghi Iran, Russia and Turkey have found themselves in the same boat: "The United States announced sanctions against us," he said. "But despite this, the value of the Russian ruble, the Turkish lira and even the Iranian riyal has [recently] risen [against the dollar]."
The official has drawn attention to the fact that "the EU authorities are also unhappy" with US actions toward Iran: "Europe wants to find all sorts of ways in order not to lose its face (in front of) the people."
Washington's Gas Policy May Lead to Catastrophe
Araghi believes that Trump's policies with regard to the Iranian gas sector could lead to nothing short of a global catastrophe.
"As a commercial product, natural gas differs from crude (oil deliveries), that can be easily thwarted with the help of sanctions," he explained, referring to the "ecological component of gas deals."
"If gas reaches some point of the Earth, this means that non-ecological types of fuel (diesel or solid fuel, fuel oil, coal, etc.) will no longer be used," the official stressed. "Today, the International Gas Union (IGU) recommends that all countries should replace non-environmental fuels with gas. Therefore, if Trump tries to do something against the gas sector, any of his actions in this direction will lead not only to a fuel collapse, but also to a global environmental catastrophe, since non-environmental fuels that pollute the air and the environment will be used instead of gas."
He noted that at the same time Iran had rejected the dollar as a means of payment for its hydrocarbons due to Trump's sanctions. Turkey, Iran's longstanding energy partner, has signaled that it would follow suit and started drifting away from the greenback.
Iran to Push Ahead With Gas Projects Despite US Sanctions

4 October 2018, 14:57 GMT
The Iranian official stressed that Tehran would continue implementing its gas projects regardless of US sanctions.
"Iran is developing various business profiles within the gas sector," he explained. "We are not totally dependent on the export of this fuel. We carry out the following gas projects: storage, gas injection into oil reservoirs of fields, use of this energy product in industry. In our country, in cities, 100 percent of residents are provided with gas, and in villages — at 95 percent. Over the past five years we have managed to gasify 14 thousand villages. The remaining 5 percent of rural areas will be gasified either this year or next year."
Araghi expressed confidence that Iran's allies will continue to buy the IRI's natural gas as they need clean and environment-friendly fuel.
The views and opinions expressed by the speaker do not necessarily reflect those of Sputnik.