"This information is not true and everyone has the opportunity to make sure of it… We reiterate that the Lugar Center for Public Health and Research is a high-level center in the region, which has many areas of work," Gamkrelidze said at a briefing.
According to Gamkrelidze, the laboratory is run by the Georgian government and has also been funded by the Georgian authorities since this year. Gamkrelidze noted that important medical and diagnostic studies were being conducted at the center.
READ MORE: 'US-Funded' Lugar Center in Georgia May Be Bioweapons Lab — Ex-Minister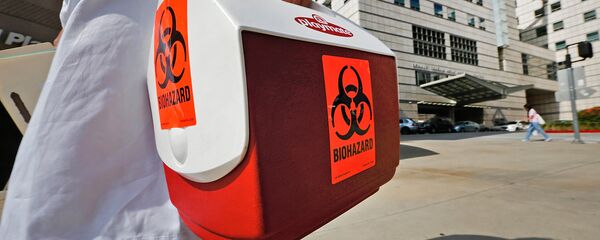 15 September 2018, 01:03 GMT
On Thursday, Maj. Gen. Igor Kirillov, the commander of the Russian Armed Forces' Radiological, Chemical and Biological Defense Troops, said the United States was using laboratories in Georgia, including those at the Lugar Center, to research ways to deliver and unleash biological weapons agents in breach of international accords. A total of 73 people have died while testing US-produced drug in Georgia, according to Kirillov.
In September, former Georgian State Security Minister Igor Giorgadze said at a press conference in Moscow that he had requested US President Donald Trump to investigate the activities of the Richard Lugar laboratory, where, according to the minister, deadly experiments on humans could have taken place.
Giorgadze said he had received documents revealing that the laboratory could be running experiments related to Hepatitis C. The documents revealed that 30 people had died in December 2015, and 43 more in April and August of 2016, all after being given treatment at the laboratory, Giorgadze added.
Georgia and the United States have denied Russia's claims in comments to Sputnik. Georgia's government envoy for ties with Russia Zurab Abashidze called the allegations absurd.