Ana Maria Archila, one of the protesters who ambushed Republican Sen. Jeff Flake in an elevator over his support of Supreme Court justice nominee Brett Kavanaugh, has essentially admitted that she works for a group funded by billionaire George Soros.
During an interview on MSNBC, Archila admitted that she works the Center for Popular Democracy which is, according to The Daily Caller, "indeed heavily funded by George Soros through the Open Society Foundation."
"I work for a community organization, I work for a network of community organizations… I showed up to the Capitol with hundreds of people that my organization, other organizations brought so that we could tell our stories," she said.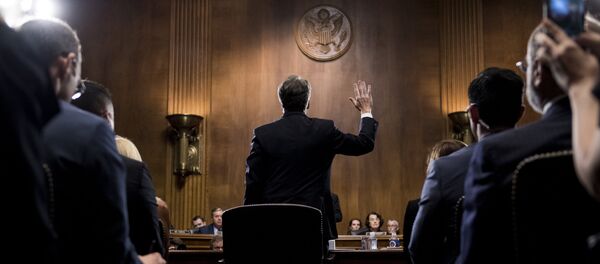 5 October 2018, 14:55 GMT
"If the president wants to know whether I work for a social justice organization, the answer is yes. And I've worked for a social justice organization since I was 23. That's not news," Archila added.
Earlier, US President Donald Trump slammed the protesters on Twitter, referring to them as "the very rude elevator screamers" who he claimed are "paid professionals only looking to make Senators look bad."
On Thursday, at least 293 protesters were arrested for unlawfully demonstrating in the atrium of the Hart Senate Office Building, US Capitol Police told Sputnik, adding that all of them "were charged with D.C. Code §22-1307, Crowding, Obstructing, or Incommoding."
READ MORE: Trump Accuses Soros of Funding Anti-Kavanaugh Protesters
Activists, including female survivors of sexual assault, have in recent days been confronting senators as they entered elevators in the US Capitol and in Senate office buildings. The protests came as the Senate prepares to hold a vote over the weekend on Kavanaugh's nomination.