Sputnik: What do you think about a possible connection between Mark Urban, Pablo Miller and Sergei Skripal?
Annie Machon: I think there's a likelihood there would be a connection between Mark Urban, Pablo Miller and Skripal. And also the fact that Miller was being named in the press in the immediate aftermath of the poisoning of Sergei Skripal way back at the beginning of March and then it was censored from the media under the D-notice system. And yes, people who serve together in the military and in intelligence often carry on communication, contacts, that sort of thing. And particularly, if you're someone who is working as a journalist for the BBC, you want to keep any connections you still have within that world in order to get some stories and in order to verify stories.
READ MORE: Skripal Refused to Move to US Under New Identity, New Book Claims
Sputnik: Is there more to Mark Urban's role than simply a BBC journalist?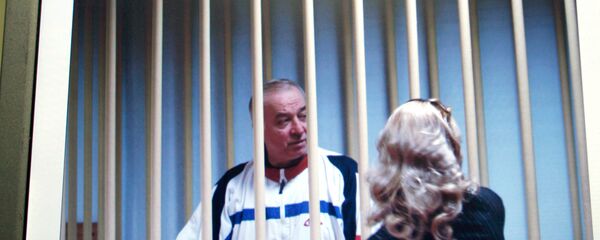 5 October 2018, 15:26 GMT
Annie Machon: So I don't think Mark Urban has made much of a secret about the fact that he started his career in military intelligence, certainly in the army, and he has gone on to be become a very respected BBC journalist with very good connections to the intelligence agencies and has broken a number of quite hard-hitting stories against these intelligence agencies over the last couple of decades. But yes, he does have very good access to them; they would see him as a useful conduit to put out stories and spin stories and massage what goes out in the media coming out of the intelligence agencies. It's a sort of two-way process which is good for the journalists but also good for the intelligence agencies as they might get some good coverage. Having said that, Mark has broken a number of stories which have been quite antagonistic to the intelligence agencies too. So I think perhaps he just got lucky here. He might have an old contact who might have put him in contact with Sergei Skripal. He got some interviews which have allowed him to produce a book about a man who is world famous now because of the attack he was subjected to earlier this year.
READ MORE: Putin: Skripal Not Rights Defender, But 'Traitor' and 'Scumbag' (VIDEO)
Sputnik: What the purpose would be for Mark Urban to produce this book at the current time?

Annie Machon: I think it's confirming the narrative that has been evolving ever since the attack happened in March in Salisbury. And a lot of information has been coming out now which seems to indicate that it must be the Russians, it certainly was these two people that have been identified by intelligence agencies, and yet we still have no hard evidence. Now people will turn round and say 'well, you won't get hard evidence because it's intelligence' but in this case, it was a police investigation and they have had months to carry out a forensic investigation. And the fact that both the Skripals have now disappeared and not allowed to make public statements  — apart from that very regimented interview that Yulia did a couple of months ago – I think tells its own tale. I am getting increasingly concerned about how the narrative, which is mainly based on a lot of speculation, mainly coming out of conspiracy websites like Bellingcat is now being, sort of, ossified into 'this must have happened, this is real, true fact' rather than just speculation because it's damaging at a very sensitive time the relations between Britain and Russia.
The views and opinions expressed in this article are those of the speaker and do not necessarily reflect Sputnik's position.