Gathering along a fence separating them from the Syrian-controlled side of the Golan Heights, Druze commemorated the anniversary of the start of the 1973 Arab Israeli War while celebrating Syria's successes in its recent war against the terrorists.
Carrying Syrian flags, portraits of President Bashar Assad, binoculars and megaphones, the Druze community in the village of Massade chanted loyalty to the Syrian government, with troops and civilians on the other side of the border shouting and waving back.
Local resident Emil Masoud told Reuters that the rally was meant to "celebrate the final stages of the war…and to celebrate with our people in Syria the final stage of victory."
The village of Massade, part of Syria's Quneitra District, has been under Israeli occupation since the Arab-Israeli War of 1967.
Israel occupied 1,200 square kilometers of the 1,800 square-kilometer Golan Heights during the Six-Day War, and formally annexed it in 1981. The UN Security Council condemned the decision and called the move to impose Israeli "laws, jurisdiction and administration" over the territory "null and void and without international legal effect."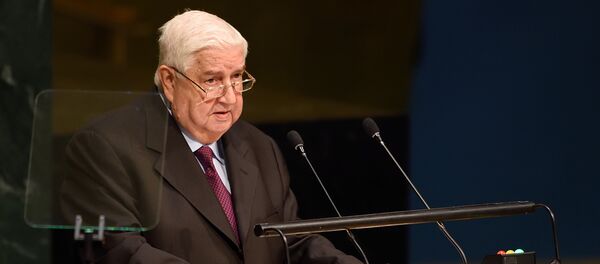 29 September 2018, 21:18 GMT
During the conflict in Syria, much of southern Syria, including the Syrian-controlled portion of the Golan Heights, was occupied by Islamist militants, including Daesh (ISIS), a terrorist group outlawed in Russia and many other countries. This summer, Syrian forces won back control of their southern border areas from the terrorists.
Last week, Syrian Foreign Minister Walid Muallem called on the international community to compel Israel to abide by UN Security Council resolutions, including the one on the Golan Heights, and  stressed Damascus' determination to fully liberate the Golan Heights, "just as we liberated southern Syria from terrorists."