General William Westmoreland, commander of US forces in Vietnam from 1964 to 1968, made preparations to send nuclear weapons to South Vietnam and prepare them for use in the event that the US suffered a military defeat in the battle of Khe Sanh in 1968, the New York Times reported, citing declassified documents.
Details of the secret operation, ominously dubbed 'Fracture Jaw,' were made available in papers which were released several years ago, but not reported on until being discovered by presidential historian Michael Beschloss, who is writing a book on the Johnson presidency.
LBJ rejected the plan to deploy the nukes after being informed of Westmoreland's plans by national security advisor Walt Rostow. Before the idea was scrapped, Westmoreland had received approval to go ahead from Admiral Ulysses S. Grant Sharp Jr., commander of US forces in the Pacific.
Westmoreland's cable to Admiral Sharp.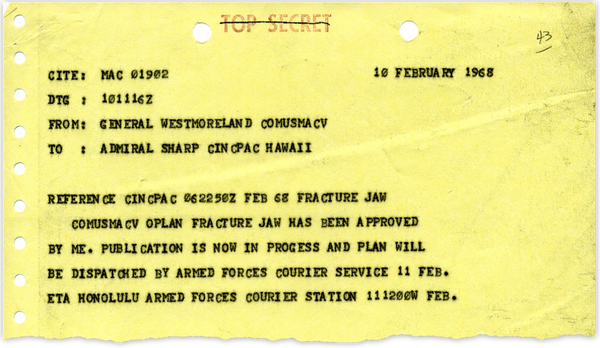 Westmoreland's cable to Admiral Sharp.
Tom Johnson, special assistant to the president, told NYT that LBJ was "extraordinarily upset" after hearing that plans to deploy the nukes had already been set in motion. The president "forcefully sent word through Rostow, and I think directly to Westmoreland, to shut it down," the former official recalled. According to Tom Johnson, LBJ feared sparking a "wider war" which would result in Chinese involvement in Vietnam.
After LBJ scrapped the idea, Admiral Sharp was ordered "discontinue all planning for Fracture Jaw," and to "place all planning material, including messages and correspondence relating thereto, under positive security." "Security of this action and prior actions must be air tight," a document dated February 12, 1968 stressed.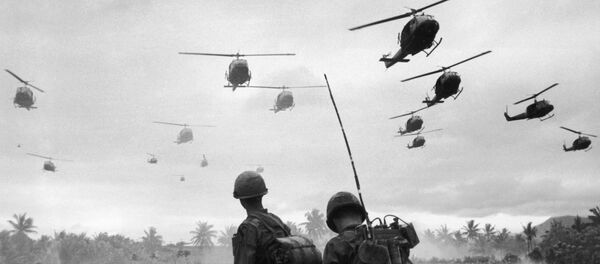 31 August 2018, 15:58 GMT
The Vietnam War was one of the bloodiest conflicts of the 20th century, causing nearly 3.8 million Vietnamese deaths and the loss of over 58,000 US troops. Between 1965 and 1975, the US Air Force dropped 7.6 million tons of bombs in Vietnam, Laos and Cambodia, almost triple the total tonnage dropped during the Second World War. Moreover, poisonous defoliating agents were sprayed across over 20 percent of the total land area of South Vietnam, destroying millions of hectares of agricultural land. The Red Cross of Vietnam estimates that upwards of one million Vietnamese are disabled or suffering serious health problems today as a result of the use of Agent Orange.
US forces withdrew from Vietnam in 1973, and the country unified in 1975 after North Vietnam invaded and captured Saigon.
The revelations about General Westmoreland's plans to deploy nuclear weapons in Vietnam are the second case of US officials making plans to do so. In 1972, LBJ's successor Richard Nixon told his national security advisor Henry Kissinger that he would "rather use the nuclear bomb" in Vietnam than attack power plants, docks and dikes as a means to escalate the war.