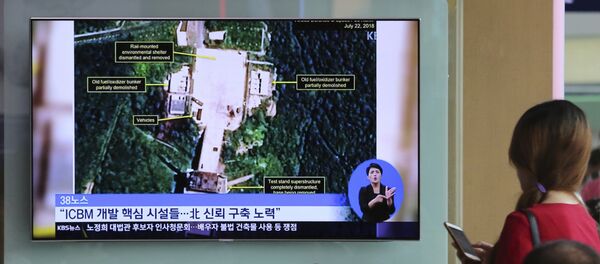 19 September 2018, 11:23 GMT
The invitation comes following the meeting of Mike Pompeo and Kim Jong-un during his visit to Pyongyang earlier on Sunday, which the secretary considered "good", as it led to an agreement to develop a joint working group for discussing the denuclearization of the Korean peninsula and the new North Korean-US summit.
According to previous reports published in May, North Korea's Defense Ministry blew up three tests mines at the Punggye-Ri nuclear test site, also destroying security checkpoints and other facilities.
In late April, North Korean leader Kim Jong-un announced the shutdown of the Punggye-ri site during his summit with South Korean President Moon Jae-in. However, Korean relations, which had improved dramatically since the beginning of the year, entered a new period of uncertainty as the United States and South Korea resumed military drills near North Korea's shores. Pyongyang has objected to the military exercises, which it sees as a threat.