UK Defense Secretary Gavin Williamson has stressed that "the fight against Daesh* is by no means over" and that Britain must "continue to stand up for our people and our partners, to ensure their [Daesh's] abhorrent and poisonous ideology does not spread to our streets," according to The Telegraph.
The airstrikes against Daesh terrorists would continue "as long as they pose a clear and immediate threat to our national and international security," Williamson pointed out.
READ MORE: The Unusual Suspects: The Odder Terror Groups Banned Along With Daesh in UK
His remarks came a day after the British Ministry of Defense said that last month, the Royal Air Force's Typhoon and Tornado fighter jets as well as Reaper drones hit Daesh targets in Syria and Iraq at a rate of more than one per day, obliterating many terrorist "command posts, tunnel networks and weapons caches."
Earlier, Williamson said that the UK and other European states were constantly threatened by terrorists from the Afghanistan-based branches of Daesh and their supporters.
"We've got to be acting as we are to ensure that we do not see future Manchester-style attacks," he emphasized.
READ MORE: UK Halts Cooperation With US Over Daesh Suspects Amid Legal Challenge
The threat of terrorism has remained high in Britain over the past several years as the country saw a number of bloody terrorist acts, most notably the attack on London's Westminster Bridge and parliament grounds in March 2017, as well as a concert bombing in Manchester on May 22, 2017.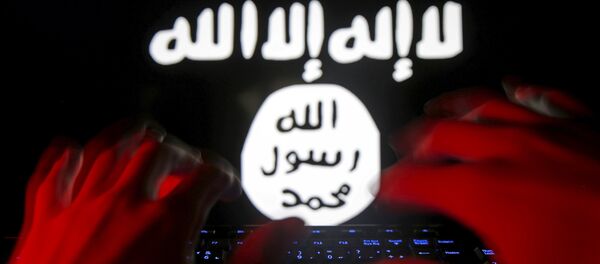 13 February 2018, 12:47 GMT
In April, Russian President Vladimir Putin stressed that despite the successful counter-terrorism mission in Syria and Iraq,  Daesh is still capable of conducting raids in different regions throughout the world, and in order to confront it, new forms of international cooperation are needed.
As an outcome of the anti-terrorist efforts of Russia, Syria and the US-led coalition, Daesh has lost over 90 percent of its territorial gains in Syria and Iraq, as well as its strongholds in Deir ez-Zor, Mosul and Raqqa.
---
*Daesh (ISIL/ISIS/Islamic State) is a terrorist group banned in Russia