While the rapid advancement of unmanned combat vehicles and aircraft essentially helps the military to reduce human soldiers by deploying machines on the battlefield, it appears that this very technology also poses a number of risks to mankind.
As United Nations Association campaigner Ben Donaldson explained in an interview with The Daily Star, mankind is "on the brink of a new generation of weapons systems that can kill people without meaningful human control."
"Much of the technology is already out there. Autonomy is creeping into weapons systems which are either deployed or about to be deployed. From South Korean sentry guns which can automatically identify and attack soldiers to Israel's Harop, which is a loitering bomb that can identify, select and strike moving targets without human oversight," Donaldson claimed.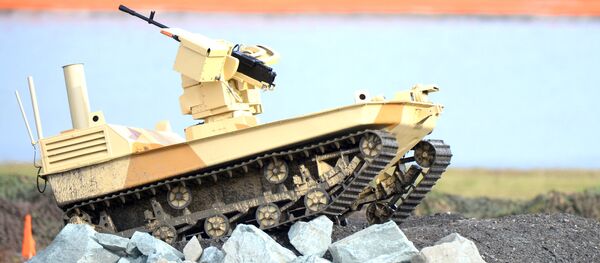 1 October 2018, 15:43 GMT
He further claimed that at some point, the rapid advancement of the technology may surpass "the human ability to control it", thus resulting in autonomous machines capable of acquiring and killing targets "not identified by human intelligence."
"There is a strong risk that the technology that enables an autonomous weapon to kill will develop more rapidly than any potential technology that enables it to decide whether it should. This means autonomous weapons could be more 'trigger happy' than humans," the campaigner warned.
Dr Subhash Kak, a computer engineer and lecturer at Oklahoma University, also told the newspaper that killer robots may also end up in the hands of various shady groups that may employ them to conduct untraceable attacks against targets of their choosing.
"The technology for human assisted killer robots is already here. Bad actors will be able to produce these using parts that are not too difficult to buy on the open market, or just get them on the black market. The possibility of untraceable terror attacks will increase," Kak noted.