Athens admitted a contradiction between the very high percentage of support and the low turnout, which reflected certain skepticism of some parts of the public, however, it considered that the name changing agreement "was mutually beneficial for the two states and stabilization of the area", Greek Alternate Minister of Foreign Affairs Giorgos Katrougalos said. 
"We think that it still has its initial dynamics. We are expecting the [Macedonian] government to proceed with the constitutional reform and when this will be completed we are going to proceed also with our obligation to ratify the treaty," Katrougalos said on the sidelines of the Dialogue of Civilizations forum on Rhodes that was held on October 5-6.
READ MORE: Greece to Host National Conference on Macedonian Naming Issue in October
Katrougalos also noted that this agreement will facilitate the trade and economic relations between the two countries and open "European perspectives" for the neighboring state.
"So I consider it to be a win-win for both countries and also a very good message for the necessity to have a lasting peace in the Balkans … Especially regarding the bilateral economic relations it is clear that this agreement is going to facilitate and existing high-level commerce that we have with FYROM and it is also one additional positive thing if this agreement," he said.
Earlier, the agreement between Greece and Macedonia was signed in an attempt to solve their decades-long dispute over the name "Macedonia," with Greece objecting to its use because it was also the name of one of its regions.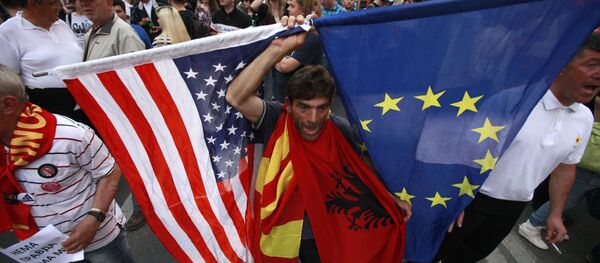 2 October 2018, 17:31 GMT
If ratified, the agreement will allow the renamed Macedonia to 
join the European Union and NATO
, since Greece will no longer be blocking the process.
On September 30, Macedonia held a referendum on renaming the Former Yugoslav Republic of Macedonia (FYROM) to the Republic of North Macedonia, which was prompted by an agreement signed between Greece and Macedonia in June.
According to the State Election Commission, 91.46 percent of voters chose to rename the country, while 5.65 percent voted against the agreement. However, the turnout amounted to just 36.91 percent, meaning that the referendum failed to secure the 50 percent turnout needed to be valid.