Shortly before last week's talks between Mike Pompeo and Kim Jong-un in Pyongyang, a senior North Korean official told the US State Secretary that his preferred translator would not be allowed in the meeting and that his bodyguard would have to leave his weapon behind, according to a source cited by Bloomberg.
In response, Pompeo tried to shrug off the restrictions on the bodyguard, jokingly describing him as a "big guy." He was quoted by the source as saying that "we will make, we will figure it out and make it work."
READ MORE: US Must 'Show Commitment' to Peace Talks with North Korea — Scholar

Reflecting on this "brief-but-tense scene", Bloomberg underscored that it indicated "just how hard the [US] Secretary of State must fight for even the smallest concession from Kim's regime as he seeks to secure a deal for North Korea to give up its nuclear weapons for good."
High on the agenda for the talks between Pompeo and Kim late last week was the path toward North Korea's denuclearization and Kim's possible second summit with US President Donald Trump.
READ MORE: Trump Thanks North Korea's Kim for Having 'Unwavering Faith' in US President
Pyongyang's Korean Central News Agency quoted Kim as saying that the negotiations were "productive and wonderful," and that he expected significant results at his possible second meeting with the US President.
"There was an exchange of opinions of the top leadership of the two countries on the issues arising in holding the second DPRK-US summit talks, followed by an in-depth discussion of them," KCNA reported.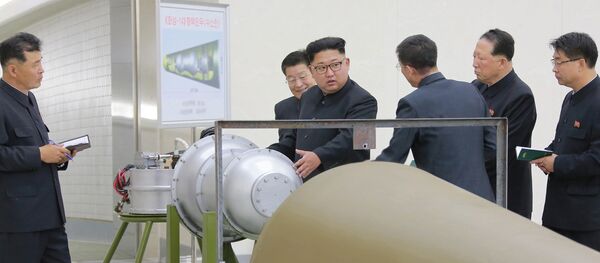 10 September 2018, 14:30 GMT
Pompeo, for his part, praised progress on clinching an agreement on the denuclearization of the Korean Peninsula, saying that the two sides are continuing to work on the agreements reached during bilateral high-level talks at the Singapore summit.
Donald Trump and Kim Jong-un held their first official summit in Singapore in June 2018. Upon the conclusion of the talks, the two countries signed a bilateral agreement outlining their joint commitment to work toward the denuclearization of the Korean Peninsula.
However, the agreement did not specify steps or deadlines as to when denuclearization could be achieved.