"Our position on gradual and consistent implementation of the joint declaration reached at talks between the leaders of North Korea and the United States by building trust between the two countries remains unchanged," Kim Hyung Jun said at an event marking the 70th anniversary of Russian-North Korean diplomatic relations.

8 October 2018, 03:06 GMT
Meanwhile, US Secretary of State Mike Pompeo and Kim Jong-un during their recent meeting in Pyonyang agreed to direct working groups to discuss four points of a document signed in Singapore, State Department Spokeswoman Heather Nauert said in a briefing on Tuesday.
"They agreed to instruct working level groups led by [US Special Representative for North Korea] Steve Biegun… to start intensified discussions on some of those four pillars that were laid out in the Singapore summit," Nauert told reporters.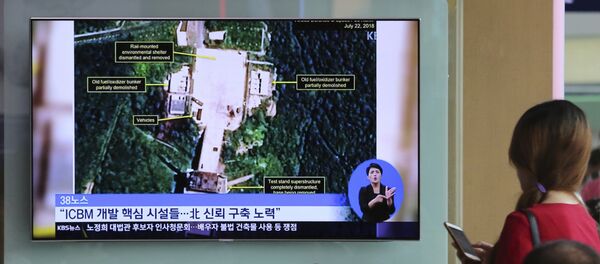 19 September 2018, 11:23 GMT
Nauert said the United States looks forward to building on the achievements of the historic meeting and views Pompeo's most recent visit to North Korea as another step forward.
The spokeswoman said the officials discussed plans for a second bilateral summit, but added that the preparations for it would take time. Nauert explained that the logistics for such a meeting of this magnitude are not easy, because the two sides should agree on the place, time, schedules of both leaders and participation of the media.