Bibi was accused of blasphemy in 2009 when, while working outside with Muslim women, she went to fetch water. The other women objected, saying that a non-Muslim should not touch the water bowl and reported her to a local cleric on the grounds that she blasphemed the Prophet Mohammed.
Blasphemy is taken extremely seriously in Pakistan by religious hardliners; anyone accused of it risks ruthless, deadly violence by vigilantes, AFP reports. Those not put to mob justice can face prosecution in the court of law, as Bibi is.
Human rights groups say that Pakistan's blasphemy laws are frequently employed as a means of enacting retribution over personal disputes.
Bibi was sentenced to death by hanging in 2010 despite her denials that she insulted the prophet. Hanging is the typical sentence for those convicted of blasphemy. The Tehreek-e-Labaik Pakistan (TLP) party, a hardline religious organization that skyrocketed to prominence in the country in recent years, has called for stricter enforcement of the blasphemy laws, going as far as blockading the capital of Islamabad with protesters for several weeks in 2017, demanding more prosecutions.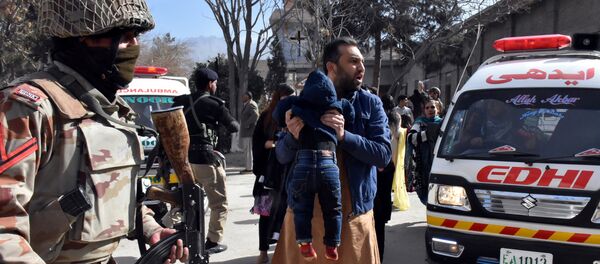 17 December 2017, 07:57 GMT
In the July 25 general election, TLP received more than 2.23 million votes.
In a press conference on YouTube, the group threatened a "horrible" end for the Supreme Court judges if Bibi's death sentence appeal is successful.
In a similar vein, Islamabad's Red Mosque — one of the oldest and most influential mosques in the capital — is seeking to preempt Bibi's escape from Pakistan should she get clemency in one form or another, though continuing to reside in Pakistan, even if she is freed, would mean living under the constant threat of vigilante violence. A spokesman for the mosque, Hafiz Ihtesham Ahmed, petitioned the Supreme Court to put her on the country's no-fly list. "Western forces are trying to get Asia Bibi out of the country, but she should be hanged," he told AFP.
Pope Benedict XVI called for clemency for Bibi in 2010, and Bibi's daughter met with Pope Francis in 2015. Francis said he would pray for the Christian woman.
If the Supreme Court denies Bibi's appeal, her last chance for clemency will be from the president, Arif Alvi of the centrist Pakistan Tehreek-i-Insaf party. The Supreme Court said it had reached a decision on Monday but has yet to announce it "for reasons to be recorded later."