During the skirmish in the area of the village of Ltamenah, four militants and two White Helmets staffers were killed, the Russian Center for Syrian Reconciliation said Wednesday.
"On the evening of October 9, an armed group affiliated with [Daesh] attacked the headquarters of a Nusra Front unit near the village of Ltamenah. Four militants and two employees of the White Helmets organization were killed in the skirmish. Two chlorine canisters were taken from the headquarters," the center said in a statement.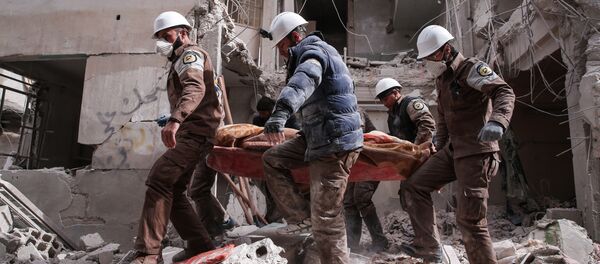 26 September 2018, 07:37 GMT
According to the statement, the chlorine canisters were later transported to southern Aleppo province and handed over to terrorists of the Daesh-linked Hurras al-Din group.
Last month, the Russian Defense Ministry said that militants of the Tahrir al-Sham terror group had delivered containers with chlorine to the settlement of Basankul, in Syria's Idlib province. The Russian Center for Syrian Reconciliation has repeatedly warned that terrorists in Syria were preparing to use chlorine-based poisons to stage a chemical attack and blame it on government troops.
READ MORE: Journo Says Damascus Has Moles in White Helmets, Info on Future Provocations
The Russian Center for Syrian Reconciliation has stressed that the Hurras al-Din terrorists were helping prepare locations for the detonation of containers with poisonous substances for filming the staged chemical attacks.