During a speech at the Oil & Money conference in London, BP Group Chief Executive Bob Dudley expressed doubt that the US would ever sanction major Russian oil and gas companies since it would cripple the EU's energy system.
"I do not think that would happen. If sanctions were put on Rosneft or Gazprom or LUKoil like what happened with Rusal, you would virtually shut down energy systems of Europe, it is a bit of extreme thing to happen. We invest in Russia carefully, not just in Rosneft," Dudley said.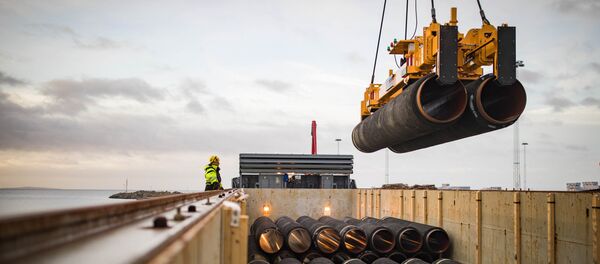 9 October 2018, 19:59 GMT
In August a bipartisan group of US Senators introduced a package of proposed sanctions against Russia, which included measures aimed against investments in the Russian energy sector. The senators claimed that the new punitive measures were a response to Russia's alleged "malign influence" on the situation in Syria and interference in the US elections.
The White House has threatened on multiple occasions to impose sanctions against all companies, investing in Russian gas projects, including Nord Stream 2, which is largely funded by European energy companies, such as France's Engie, Austria's OMV AG, UK-Dutch Royal Dutch Shell, and Germany's Uniper and Wintershall. Russian Energy Minister Alexander Novak has assured that Nord Stream 2 will be built despite US attempts to impede its construction.
READ MORE: US Senators Introduce Sanctions Bill, Targeting Russia's Sovereign Debt, Energy
The gas pipeline project aims to deliver 55 billion cubic meters of Russian natural gas a year to the EU. US President Donald Trump earlier suggested that Europe must replace gas supplies from Russia with American LNG and even suggested lifting some of the tariffs from European countries in exchange for contracts for US LNG. The Head of the European Commission Jean-Claude Juncker has noted that the EU may buy American LNG if the price becomes competitive.