"The biggest mass grave with 1,400 bodies has been found in Panorama area in Raqqa. Daesh terrorists did it," Kazem said.
Most of the victims are those accused by Daesh militants of having ties with the Syrian government and armed forces, according to Kazem. Among them are women, children, and military personnel.
READ MORE: Anti-Daesh War is 'By No Means Over' — UK Defense Secretary Williamson
It is not the first such discovery in Raqqa, but it is the largest mass grave found in the city so far.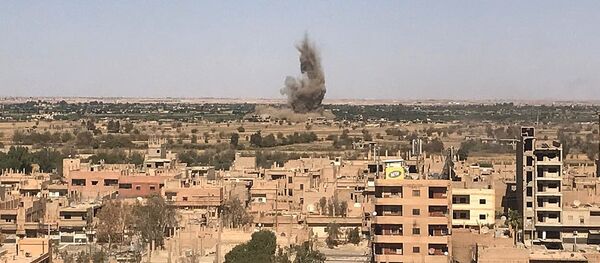 7 October 2018, 14:12 GMT
Daesh terrorists seized Raqqa in 2014 and proclaimed it their capital.
The military campaign to recapture Raqqa was launched in June 2016 by the Kurdish-led Syrian Democratic Forces (SDF) backed by the US-led coalition. A year later, the campaign culminated in the Battle of Raqqa, which put the SDF in total control of the city. As a result of the fighting and massive airstrikes, the city was completely destroyed. According to the United Nations, the humanitarian situation in the city remains disastrous.
*Daesh (also known as IS/ISIS/ISIL/Islamic State) is a terrorist organization, banned in Russia