The jerseys, which are selling for a whopping $99, have the number 45 stitched on both sides and have the Trump name sewn across the back. The merchandise also includes the phrase "Stand Up For America" embroidered on the front, in addition to a mini American flag placed on the right sleeve.
To top it all off, the website notes that the product is "proudly made in the USA" and that interested buyers must wait four to five weeks for delivery "due to high demand."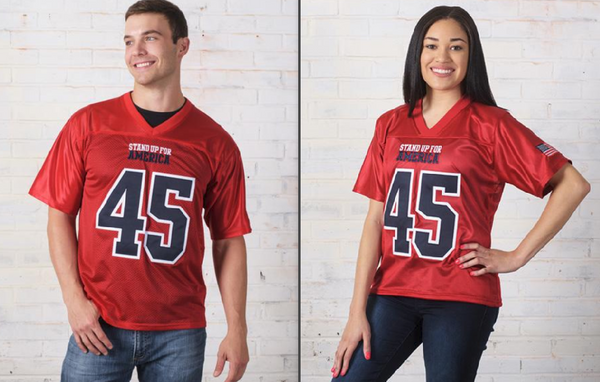 Trump campaign store selling football jerseys that say "Stand Up For America"
"Our theme originated out of President Trump's love for the American flag and his fervent belief that Americans should always stand for our National Anthem," Lara Trump, who currently serves as a senior advisor for Donald J. Trump for President, Inc., told the New York Post Saturday.
A Trump campaign spokesperson told the Post that sales have been "brisk."
The product was initially rolled out on September 7, just one day after the Nike ad campaign featuring professional football player Colin Kaepernick debuted on primetime TV, according to New York Post. The clip itself was released by Nike on YouTube on September 5.
​Some individuals who weren't in line with what Kaepernick represented swiftly acted out and chose to burn any and all Nike apparel they had in their possession after the athlete posted an image of himself on social media on September 3, hinting at his new Nike deal.
Kaepernick was thrown into the spotlight in 2016 when he decided to take a knee during the national anthem at a preseason game to protest against racial injustice and police brutality in the US. Ever since then, US President Donald Trump has cast aspersions on Kaepernick's motives, suggesting that he is anti-American and is being outright disrespectful to US military servicemembers.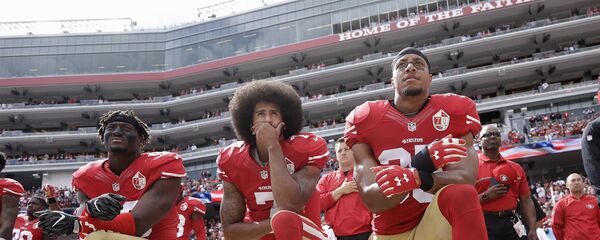 13 November 2017, 18:56 GMT
Kaepernick has been sidelined from playing since March 2017, when he opted out of his contract with the San Francisco 49ers. Despite a reputation as a serviceable quarterback, no NFL team has signed him since he took a knee.
The embattled athlete is in the midst of a collusion grievance lawsuit against the National Football League. The 30-year-old Wisconsin native is alleging that NFL team owners have conspired to keep him from getting signed to any team since he became a free agent in 2017. Though the organization has rejected his claims, a hearing on the case is expected later this year, according to CNBC.