"I can say definitively, the United States had no advanced knowledge of Jamal Khashoggi's disappearance," Palladino said.
The Washington Post on Tuesday reported that US intelligence services intercepted communications among Saudi officials discussing plans to capture the journalist. Khashoggi was a columnist for the newspaper.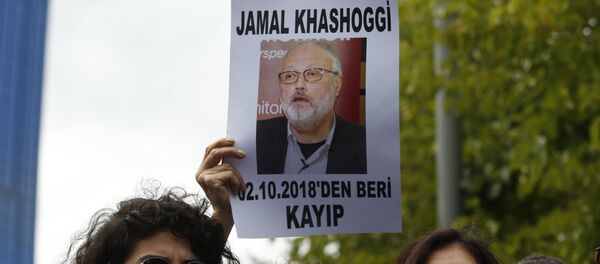 10 October 2018, 18:08 GMT
Denying the report, Palladino said Washington continues to monitor the situation and calls for a transparent investigation into Khashoggi's disappearance.
Last week, the Turkish-Arab Media Association reported that Khashoggi went missing in Turkey. His fiancee said the journalist was invited to the Saudi Consulate in Istanbul to obtain documents needed for his upcoming marriage. The fiancee stayed outside waiting for Khashoggi for several hours before she was told by one of the Consulate's employees that her fiance had already left and has not been seen by her ever since.
READ MORE: Saudi Journalist's Disappearance Should Prompt US to Halt Arms Sales — Senator
US media reports have said that Turkish investigators believe the journalist was murdered inside the Saudi Consulate. Saudi Arabia has denied the allegation.