Whistle-blowing website WikiLeaks said Thursday it had obtained and published "a highly confidential document" on the technology giant Amazon. In the so-called "Amazon Atlas," the transparency proponent said that the document, allegedly from 2015, provided a uniquely deep insight into where Amazon's data centers are located, as well as shed light on the company's apparent ties with the US intelligence services.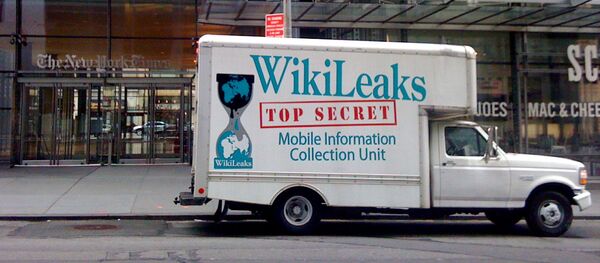 11 October 2018, 09:16 GMT
"The document…lists the addresses and some operational details of over 100 data centers spread across fifteen cities in nine countries," WikiLeaks wrote, accompanying the post with a map supposedly marking Amazon's widely scattered data processing locations.
The release claimed that Amazon "is notoriously secretive about the precise locations." "More often, Amazon operates out of data centers owned by other companies with little indication that Amazon itself is based there too or runs its own data centers under less-identifiable subsidiaries," WikiLeaks suggested.
READ MORE: Hrafnsson's Appointment Astute Move, Boosts Wikileaks' Credibility — Campaigner
WikiLeaks notably came to the spotlight last year after it published a number of insights into the Central Intelligence Agency's alleged hacking arsenal. 
WikiLeaks, which has been headed for the past month by Assange's former spokesman, Kristinn Hrafnsson, has been relatively quiet since March, when troubles occurred with the internet connection inside London's Ecuadorean Embassy, where WikiLeaks' founder Assange has been residing under asylum for six years now.