Around 500 items, representing 12,000 years of Syria's history, are currently on display at "The Recovered Treasures of Syria" exhibition held in Al-Assad culture and arts center in the Syrian capital.
Mohammed, who is the curator of the exhibition, told reporters that the majority of the artifacts had been restored after they had been retrieved by the museum workers, adding that Syrian museums hoped for the support from colleagues working in the Russian Hermitage museum and the Pushkin Museum of Fine Arts in the restoration of other items.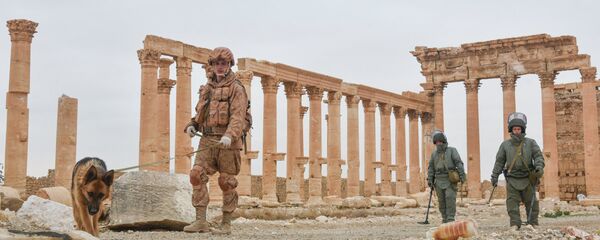 "We already have an agreement that after the Russian specialists help us restore the artifacts, we will hold an exhibition of the recovered treasures of Syria in Moscow, in the Pushkin Museum of Fine Arts," Mohammed pointed out.
The Syrian servicemen have been tasked with finding museum exhibits stolen by terrorists and returning them to museums, Mohammed added. According to the exhibition curator, the soldiers have recovered over 20,000 artifacts, while around 9,000 of them are being preserved in the National Museum.
READ MORE: Syrian Authorities Say Restored Palmyra Could Start Receiving Tourists in 2019
"It is a very unusual exhibition of the recovered items. All the artifacts were found on the territories that had been under the terrorists' control … When we have collected a large number of such findings, we decided we should demonstrate them to the public. This is how the idea of such an exhibition emerged," Mohammed pointed out.
Mohammed noted that the most part of the recovered items was restored in Syria while two of them were restored by specialists in Italy.
READ MORE: Reconstructing Syria: Russian Scientists Create 3D Model of Damaged Palmyra