UK Prime Minister Theresa May will summon 11 cabinet ministers to her office later on Thursday to agree a Brexit plan ensuring that the United Kingdom will remain a part of the EU Customs Union (EUCU) until the parties reach an accord on a permanent free trade deal, local media reported.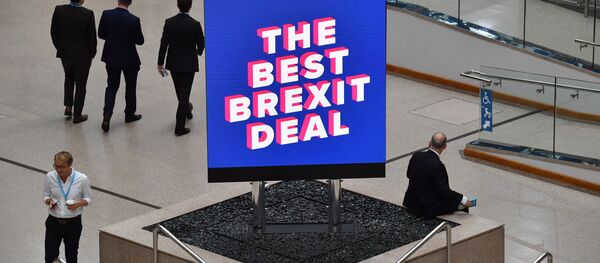 8 October 2018, 07:43 GMT
May's meeting, scheduled for 05:00 p.m. (16:00 GMT), will include Philip Hammond, the Chancellor of the Exchequer, Home Secretary Sajid Javid, Foreign Secretary Jeremy Hunt and other senior cabinet ministers, the outlet added.
The cabinet sources suspect that May has called the meeting to make key government figures commit to the plan in order to subsequently present it as a fait accompli to the rest of the cabinet the next week, when the prime minister is scheduled to have a meeting with the leaders of EU27 to discuss the Brexit process, according to the outlet.
READ MORE: Ex-Tory Party Donor Refuses to Remove Giant 'Bollocks to Brexit' Sign
On Wednesday, The Times reported, citing sources, that May planned to hold an extended discussion on further compromise measures on Brexit at a cabinet meeting next Tuesday, just ahead of her talks with other EU heads of state in Brussels. During the cabinet meeting, the UK prime minister was expected to discuss an obligation to keep the country in an effective customs union with the European Union following Brexit, but having "a clear process" of moves to end it later, the outlet suggested.
EU chief Brexit negotiator Michel Barnier said on Wednesday that a deal on the UK's withdrawal from the European Union could be reached in the course of one week. Barnier noted, however, that London should agree to a customs union with Brussels to avoid further protractions in concluding the deal.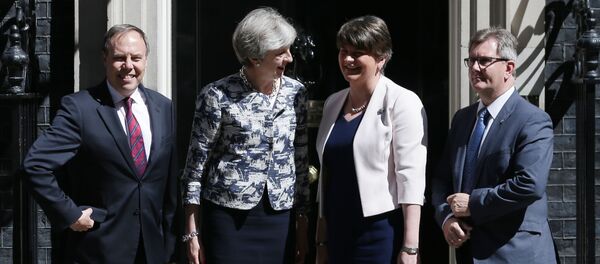 3 October 2018, 11:52 GMT
Former UK Foreign Secretary Boris Johnson, who resigned in July over disagreements with May on Brexit and who has been attacking May's way of dealing with the withdrawal process ever since, said on Wednesday that such a backstop solution would turn the United Kingdom into a colony of the European Union, according to
The Telegraph
.
Moreover, on Wednesday, Sammy Wilson, the Brexit spokesman for the Northern Irish Democratic Unionist Party (DUP), which forms the coalition government with May's Conservative Party, wrote in an article for The Telegraph that his party would not uphold a deal that included the proposed backstop.
READ MORE: We Will Never Accept EU Brexit Offers & We're Not Afraid of No Deal — UK PM
The Brexit talks between London and Brussels have been ongoing since June 2017 with the issue of the Irish border being the major obstacle in the negotiations.