Dina Powell, a former Trump administration official and a Goldman Sachs executive, has removed her name from the shortlist of candidates for US Ambassador to the UN, Reuters reported, citing a source familiar with the matter.
In a telephone linkup with President Trump Powell told him that as honored as she was to be considered for the job, she still planned to stay with Goldman Sachs.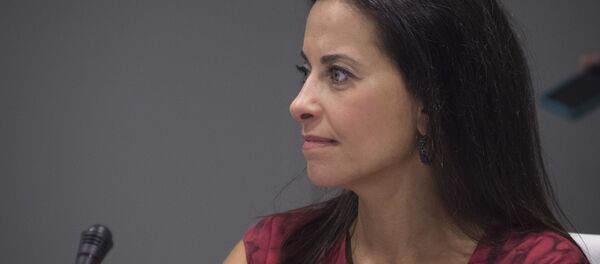 10 October 2018, 02:29 GMT
Powell had been on a shortlist of candidates to fill the role after current UN envoy Nikki Haley said earlier this week that she was going to leave her post at the end of this year.
Dina Powell, who previously served as deputy national security adviser to Donald Trump, was reportedly worried about the frequent travel the UN job would require. She is also believed to have had problems working with White House Chief of Staff John Kelly.
Nikki Haley was confirmed as UN ambassador in January 2017. Previously, she was the governor of South Carolina.
Haley, who offered her resignation to President Trump, will step down at the end of the year, Trump said during a Tuesday morning meeting with her at the White House.
Trump said on Wednesday he was considering several candidates for the job, including the US Ambassador to Canada Kelly Craft and current Secretary of the Interior Ryan Zinke.
The president's final candidate will require Senate confirmation and become one of the administration's most public officials.
READ MORE: Ironic if Conservative Nikki Haley Would be First Female US President — Prof