An Apple smart watch owned by missing Saudi journalist Jamal Khashoggi entered the media spotlight on Friday, as it might or might not be pivotal to investigating his alleged murder.
First, a Turkish reporter suggested that Khashoggi himself recorded the audio of his interrogation by a "hit squad" within the Saudi Arabia Consulate in Istanbul more than a week ago. The Sabah report said that the audio has been uploaded to Apple's cloud server — iCloud — through his iPhone, which at the time was in the possession of Khashoggi's fiancée Hatice Cengiz.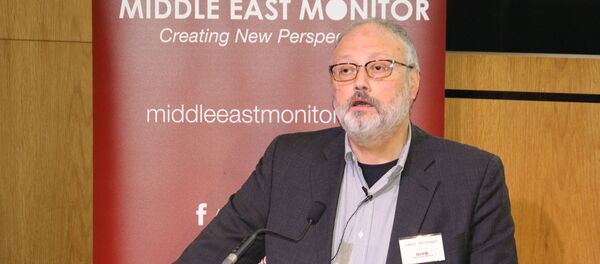 13 October 2018, 02:49 GMT
However, the report was later found doubtful, as it was riddled with technical discrepancies. One thing the reporter got right is that the watch was actually on the journalist when he entered the building. This was later confirmed by two Turkish officials who spoke to Reuters on condition of anonymity.
"We have determined that it was on him when he walked into the consulate," the security official told Reuters.
However, the Gazetesi report is otherwise full of inconsistencies. The reporter says the alleged murderers used Khashoggi's fingerprints to access the device, but an Apple representative confirmed to CNN that Apple Watches don't have a fingerprint scan feature.
The discrepancies don't end here, though.
What is known is that Khashoggi's model of Apple Watch does not allow for direct cellular communication in Turkey. It is also unlikely that the watch could have connected to the Internet via the Consulate's internal Wi-Fi network. Quartz's Kabir Chibber suggests that Jamal's watch, which probably wasn't the newest model, required a Wi-Fi or Bluetooth connection to his iPhone and had no Internet connectivity of its own.
In an interview for Reuters, two Turkish officials speculated that Khashoggi's watch could have been paired to one of the two phones he handed to Cengiz before entering the Consulate. Slate notes that it remains unclear what model of iPhone Khashoggi used and whether the connection between the two devices was stable.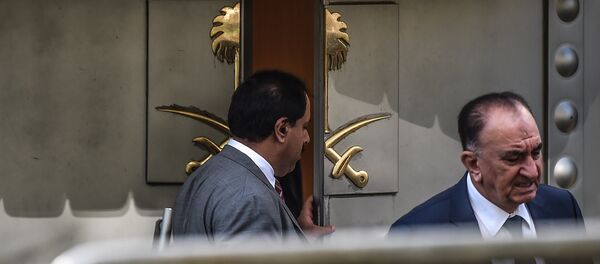 13 October 2018, 00:01 GMT
Furthermore, according to a TechCrunch report, any data stored on iCloud is encrypted with Khashoggi's passcode and is inaccessible by any law enforcement agency or even Apple itself. Therefore, if any data has been transmitted by the watch, it must be on the iPhone itself to be at least theoretically accessible.
It is unclear where the iPhone currently is, but it would a safe assumption that the device is in the hands of Turkish law enforcement or intelligence services. Earlier this week, Turkish officials stated that they are in possession of "video and audio" evidence of Khashoggi's death, but have not disclosed the evidence itself, claiming it would compromise their data collection channels. The audio evidence may or may not have come from the smart watch. One thing that's known for sure is that the device disappeared along with its owner and is currently not in the possession of Turkish officials.
"Intelligence services, the prosecutor's office and a technology team are working on this. Turkey does not have the watch so we are trying to do it through connected devices," a Turkish official told Reuters.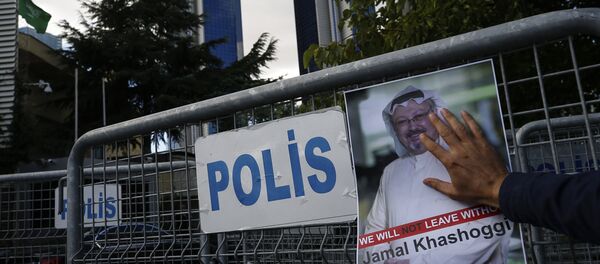 12 October 2018, 01:46 GMT
However, if the smart watch did not transmit an audio recording of the journalist's interrogation and murder, the investigators will only have to rely on data regarding his heartbeat and GPS location. This would present trouble, Slate speculates, as an abrupt disappearance of a heartbeat signal could indicate Khashoggi's death, but could also simply mean the watch was taken off, destroyed or ran out of battery power.
Jamal Khashoggi, a contributor to The Washington Post known for his criticism of Saudi King Salman and Crown Prince Mohhamad, has been missing since October 2 after he entered the Saudi Consulate in Istanbul. The Saudis have denied allegations that the journalist was captured or murdered and have insisted he left the building later the same day. The disappearance of the journalist has sparked international outrage, with major media companies and major investors reversing their decision to attend an investment conference in Saudi Arabia.