European Central Bank President Mario Draghi has urged the Italian government to tone down its rhetoric over public finances and the European currency, which he says is damaging for individuals and businesses.
"A budgetary expansion in a high debt country becomes much more complicated… if people start to put in question the euro," Draghi told reporters at the annual meeting of the International Monetary Fund and World Bank Group in Indonesia on Saturday, as cited by Reuters.
He has also scolded Italy's plans for next year's public spending hike, with the announced budget deficit being three times bigger that the previous government's target.
"These statements… have created real damage and there's plenty of evidence that spreads have increased in connection with these statements," Draghi stated. "The results of which is that household and firms pay higher interest rates on loans."
READ MORE: Italy's New Budget 'Targeted Against People' — EU Parliament President
"The very first thing (to do) is to calm down with the tone. And then the second thing is we have to wait for the facts," Draghi said, pointing out that Italy's actual spending plans may differ from the government's intention.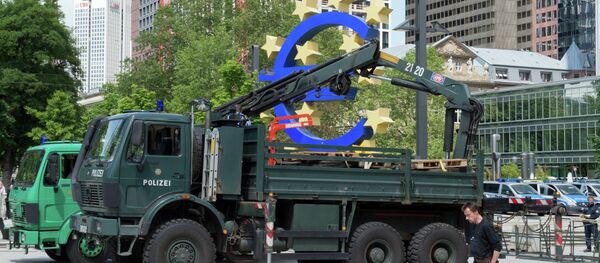 4 October 2018, 07:00 GMT
This comes after Claudio Borghi, the economic head of the ruling League party, suggested last week that Italy would be better off without the euro. "I'm truly convinced that Italy would solve most of its problems if it had its own currency," he said on October 2, prompting turmoil in financial markets.
The Eurozone's third-largest economy, Italy had racked up a whopping €2.3 trillion ($2.6 trillion) of public debt by 2017, posting a government debt-to-GDP ratio of 131.8 percent. However, the country's new coalition government, formed this May, has promised to lower taxes and raise welfare spending, bringing Italy's deficit to 2.4 percent of GDP in 2019 — a 0.8 percent gain since last year. European regulators have met the planned debt increase with criticism; European Commissioner for Economic and Financial Affairs Pierre Moscovici said that "a budget that would increase public debt would be a budget against Italian people."