Melania Trump, mother of Donald Trump's son Barron, has opened up on the real reason behind her decision to wear a garment that incited a bevy of public criticism beyond those who usually concern themselves with the fashions of the first family.
In June, FLOTUS wore a designer khaki jacket with a print on the back reading: "I really don't care, do u?" as she boarded a flight to Texas where she was scheduled to visit a detention camp for immigrant children.
In an interview with ABC News aired on Friday, the Slovenian-born former model insisted that "it's obvious I didn't wear the jacket for the children. I wore the jacket to go on the plane and off the plane."
Although her spokesperson scolded the media for coverage of the jacket, saying that it bore no hidden message, the First Lady explained that it was targeted at her critics on the left.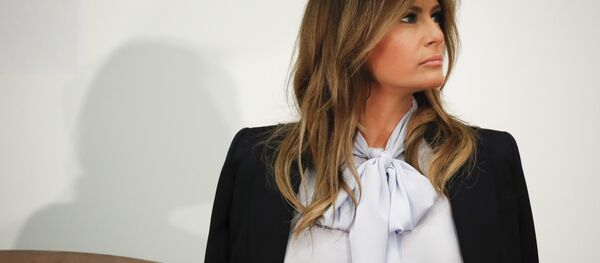 11 October 2018, 13:22 GMT
"It was for the people and for the left-wing media who are criticizing me," she said. "And I want to show them that I don't care. You could criticize whatever you wanna say, you can say. But it will not stop me to do what I feel is right."
Following the media maelstrom, the 48-year-old deliberately put the jacket back on to make her point once again as she left the internment center.
"After the visit, I put it back on because I see how media got upset about, obsessed about it," she said. "They got so obsessed. And I said, like, you know what, that's what I'm talking about."
She went on to say that she would rather see the media focus on what she does rather than her clothing.