Speaking to reporters on Saturday, President Trump vowed to "get to the bottom" of Khashoggi's disappearance, emphasizing that Washington would be "very upset" if Saudi authorities had him killed, as his fiancé and Turkish investigators have claimed. Riyadh vehemently denies the charges. However, Trump also did his best not to jeopardize the billions of dollars in arms deals with the Kingdom. "I'll tell you what I don't want to do. Boeing, Lockheed, Raytheon, I don't want to hurt jobs. I don't want to lose an order like that," Trump said, emphasizing that there were "other ways of punishing" Riyadh if the allegations about Khashoggi's murder were confirmed.
Deal Details
But just how big are the defense orders at stake? This week, the US president repeatedly mentioned a figure of $110 billion from the US-Saudi arms deal signed in May 2017.
However, also this past week, the Pentagon revealed that Riyadh had actually only signed "letters of offer and acceptance," i.e. official purchase agreements, on less than 15 percent of that figure, or $14.5 billion, with these purchases either approved by Congress or still in the process of being approved.
According to the Congressional Research Service, the US and Saudi Arabia have purchase agreements on the following items:
 115 M1A2S tanks by General Dynamics Corps
 PAC-3 Patriot missile systems produced by Raytheon
 UH-60 Blackhawk and CH-47 Chinook helicopters manufactured by Sikorsky Helicopters and Boeing Vertol, respectively
At the same time, some $3 billion in upgrades to Saudi Arabia's military communications infrastructure and command-and-control, training packages for troops and pilots, as well as a proposal on the delivery of THAAD missile systems worth up to $15 billion have yet to be finalized despite preliminary approval from Congress, with Riyadh passing up a 20 percent discount deadline on the Lockheed missile system last month.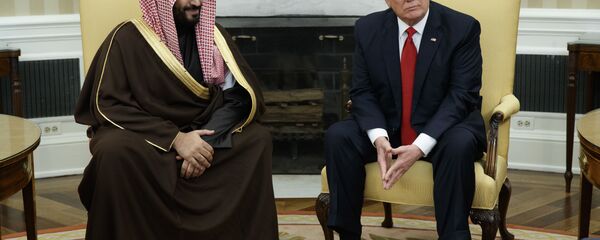 8 October 2018, 16:46 GMT
Speaking to the Associated Press, Brookings Institution senior fellow Bruce Riedel emphasized that President Trump's talk about $110 billion in arms sales to Saudi Arabia are "just not true," with "very little" actually changing hands so far during his administration. Shortly after the arms agreement was announced, Riedel called the touted deal
"fake news,"
pointing out that many of the contracts were "intended sales," often serving as what "the defense industry things the Saudis will be interested in someday," with the firmer deals often going back to the Obama administration.
Notwithstanding the apparent limitations of Trump's much-touted $110 billion arms deal, there is no doubt that Riyadh has historically been one of the top buyers of US weapons. Between 2009 and 2016, the two countries signed over $65 billion in congressionally-approved weapons deals. That trend followed decades of massive arms deals, with Saudi Arabia buying over $68 billion in arms from the US in the 1980s and 1990s, and spending tens of billions more during the administration of George W. Bush.
Can Congress Stop Sales?
Throughout this period, Congress has never permanently blocked arms sales to the Kingdom. Today, despite threats by some lawmakers from both parties to introduce sanctions against the Kingdom over the Khashoggi case, others seem ready to continue doing business with Riyadh, citing the long-standing alliance between the two countries and the jobs the expected contracts are expected to bring defense contractors in some states.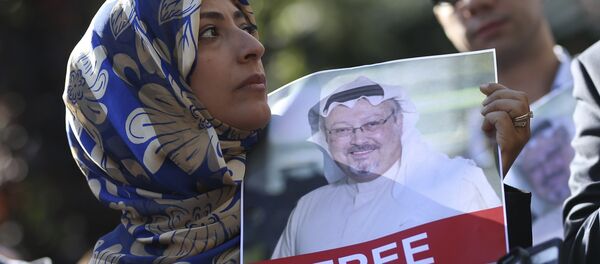 13 October 2018, 01:58 GMT
Last week, 22 senators from both parties sent the president a letter
directing
the administration to open an investigation the journalist's disappearance, with the administration given 120 days to conduct an investigation, identify the accused, and determined whether sanctions against any individual are warranted.
Jamal Khashoggi, a Saudi national journalist working for The Washington Post, went missing in Istanbul on October 2 after visiting the Saudi Consulate in Istanbul to obtain documents for his upcoming marriage. Turkish President Recep Tayyip Erdogan called on Riyadh to prove that it had nothing to do with the incident amid suspicions by Turkish investigators that Khashoggi was killed inside the consulate. Saudi Arabia has denied and condemned all claims of orders to kill the journalist as baseless accusations, and authorized Turkish officials to access the consulate building to investigate the case.