The Christian Social Union (CSU), part of German Chancellor Angela Merkel's governing coalition, has ruled the prosperous state since 1957 and now holds 101 seats in the 180-seat Landtag. Its leader, Horst Seehofer, is doubles as Germany's interior minister.
READ MORE: Bavaria Party Leader Says Region Needs Independence Amid Migrant Crisis
However, that may change soon, polls show. The latest ZDF survey predicts the CSU may suffer its second-biggest election loss; only around 34 percent of those surveyed indicated that they supported the party. The only time it fared worse was in 1950, when the right-wing party got 27.4 percent.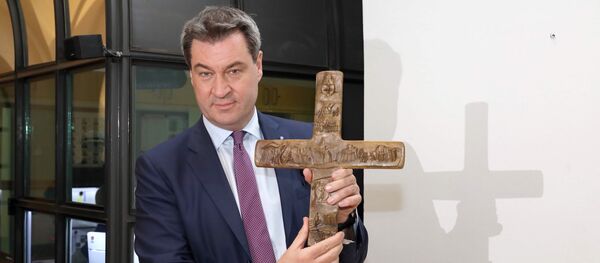 The leftist Social Democratic Party (SPD), Merkel's other coalition partner, is also expected to lose seats, while the right-wing Alternative for Germany (AfD) looks set to enter the regional parliament for the first time.
The ZDF survey ranked the Greens second with 19 percent, followed by the SPD with 12 percent. The centrist Free Voters (FW) and the AfD are each predicted to secure 10 percent of the vote, while the classical liberal Free Democratic Party may obtain 5.5 percent. All of them, save the far-right AfD, are potential candidates for a ruling coalition with the CSU.
The polls open at 8 a.m. (06:00 GMT) and close at 6 p.m. (16:00 GMT). Nearly 9.5 million people out of the state's 12.5 million residents are eligible to vote.