The Syrian Foreign Ministry has made a request to the United Nations to investigate the use of white phosphorus munitions in Saturday's attack in the town of Hajin, Deir Ez-Zor province, the Syrian Arab News Agency (SANA) has reported.
In letters sent to the UN and the UN Security Council on Sunday, Damascus said that civilians, mostly women and children, had been injured in the strikes, and that the US coalition's use of white phosphorus has unfortunately become "habitual and persistent."
"Syria is once again calling on the UN Security Council to take responsibility for ensuring peace and security throughout the world and to conduct an international investigation into these crimes, to condemn them and to take immediate measures to stop them and prevent their recurrence," the statement published by SANA reads. In addition, Damascus is also calling on the UN "to end the illegal and hostile presence of the US and other forces on the territory of the Syrian Arab Republic."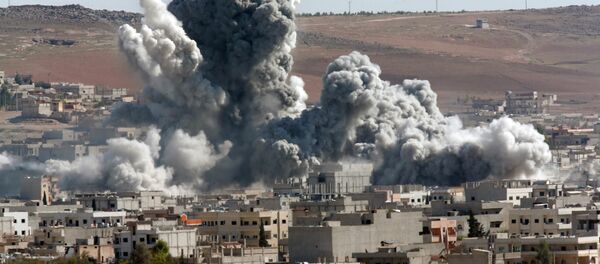 14 October 2018, 00:15 GMT
Syrian media reported about the alleged strikes on Saturday morning. Later, a Pentagon spokesperson
told Sputnik
that while it would not "publicly discuss the use of specific weapons and munitions in operations…every weapons systems in the US inventory undergoes a legal review to ensure the weapon complies with the Law of Armed Conflict."
On Saturday, Russian Duma defense committee deputy chairman Yuri Shvytkin told Sputnik that if media reports are confirmed, the issue "must be brought to the attention" of both the UN Security Council and the Organization for the Prohibition of Chemical Weapons. For his part, Russian Senate defense committee deputy chair Alexei Kondratyev stressed that the US "must be held accountable" if it used white phosphorus, which is prohibited by international law in Syria.
Saturday's suspected incident was not the first time Damascus has accused Washington of using the weapon in Syria. Last month, a coalition spokesperson denied the use of white phosphorus munitions in Deir ez-Zor following reports by the Russian military that two US F-15s had struck targets in the area using the substance, leading to major fires and suspected casualties.
The US-led coalition has been operating in Syria against Daesh* since 2014, but has not received approval for its operations by either the UN or the Syrian government.
*A terrorist group banned in Russia and many other countries.