In an interview for the CBS Sunday program 60 Minutes, Donald Trump said that while he does not know if Secretary of Defense James Mattis is going to step down, "it could be that he is."
"Well, I don't know. He hasn't told me that," Trump said when asked by CBS's Lesley Stahl about rumors of Mattis's possible firing or resignation.
"I have a very good relationship with him. I had lunch with him two days ago. I have a very good relationship with him. It could be that he is. I think he's sort of a Democrat, if you want to know the truth," the president said.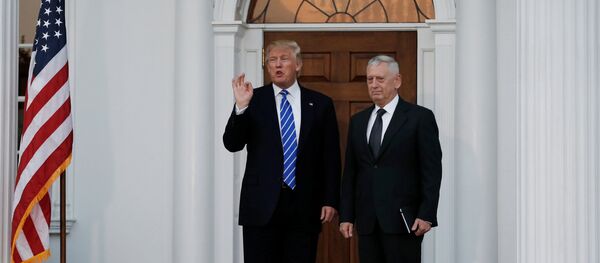 15 September 2018, 16:31 GMT
Characterizing the Pentagon chief as a "good guy," and reiterating that they "get along very well," Trump repeated: "He may leave. I mean, at some point, everybody leaves. Everybody. People leave. That's Washington."
Mattis dismissed reports of his departure from the Pentagon late last month after US media reported, citing unnamed sources, that Trump was considering replacing him with someone more openly supportive of his foreign and defense policies after the midterm elections. "Of course I don't think about leaving, I love it here," the general said.
The relationship between Trump and Mattis entered the media spotlight after the release of journalist Bob Woodward's book on the Trump administration last month. Woodward quoted Mattis as saying that Trump had the mindset of a "fifth or sixth-grader" on Korea policy, and claimed that the Pentagon head disobeyed Trump's orders to "f***ing kill" Syrian President Bashar Assad in 2017. Mattis characterized Woodward's book as a "product of a rich imagination."
If he resigned, Mattis would be the seventh Cabinet-level official to depart during Trump's tenure as president. Last week, US ambassador to the UN Nikki Haley announced her intention to step down at the end of this year. Haley will join former national security advisor H.R. McMaster, former FBI deputy director Andrew McCabe, former Secretary of State Rex Tillerson, former White House chief economic advisor Gary Cohn, former Health and Human Services secretary Tom Price, former White House chief strategist Steve Bannon, former White House communications director Anthony Scaramucci, former White House press secretary Sean Spicer, former national security advisor Michael Flynn, former FBI director James Comey, former chief of staff Reince Priebus and other officials who have resigned or been fired by the president.