"I would like to announce that the investigation is being carried out in all directions, we also do not rule out terrorism," the spokeswoman of the Cologne police said.
At the same time, head of the hostage rescue operation Klaus Rueschenschmidt commented on the incident revealing that the attacker ignited a Molotov cocktail in a cafe before taking a woman hostage at the train station in the German city of Cologne. 
READ MORE: 'New Right' Appeals to 'Younger Better Educated Urban Populations' — Scholar
"At midday… we were informed about the situation that took place in a fast food restaurant at the central station in Cologne. According to our information, the criminal lit a Molotov cocktail in the restaurant. As a result, a 14-year-old girl was wounded. She is in hospital with burns," he said.
Rueschenschmidt added that the criminal then ran out of the restaurant and went to a pharmacy, also located at the train station, where he took a woman hostage.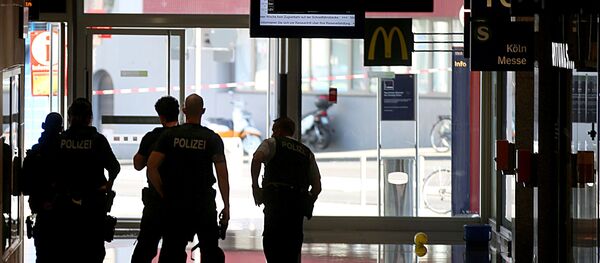 15 October 2018, 11:48 GMT
Later German police said that the man who took a hostage in a pharmacy at Cologne's main train station on Monday may be a Syrian after a passport was found at the scene.
The hostage crisis ended in a police operation that critically wounded the hostage-taker. He was reanimated. The woman he held captive was hurt and hospitalized.
"A passport was found in the back of the pharmacy, issued to a 55-year-old Syrian national," Klaus-Stephan Becker, from Cologne police, told reporters.
The holder of the passport had a permit to stay in Germany until mid-2021, the officer said. He was accused of theft, fraud, assault and trespassing.
Following the incident, the railway station and the nearby streets were cordoned off, while the rail traffic was partially disrupted.
Previously, media reported that while at the pharmacy, the man allegedly demanded a safe flight to Syria and said himself he was a member of the Daesh* terrorist group. 
*Daesh (also known as ISIS/ISIL/IS/Islamic State) is a terrorist organization banned in Russia and many other countries.