Earlier this month, the US urged the International Court of Justice to reject Iran's demand that it return funds worth $ 1.75 billion, stored in US banks and frozen at the request of US courts. The representative of Iran in the International Court of Justice (ICJ), Mohsen Mohebi, said in turn that the court should reject "all preliminary objections" made by the White House.
Describing Washington's allegation as unfair, lawyer Maryam Jelalvand from Tehran University said in an interview with Sputnik that "for many years now, the US has been making false accusations against Iran."
READ MORE: Iran Accuses US of Regime Change Attempt, Downplays Effect of Sanctions
"On the basis of these accusations, Washington has been making illegal decisions to freeze Iranian assets and property, which is a direct violation of international law," Jelalvand pointed out.
She recalled that a lawyer representing the interests of the US Department of State claimed during the first meeting of the ICJ in The Hague that Iran is allegedly an accomplice of terrorism and will be held responsible for this under US law.
"In response, Iranian lawyers accused the US of speculation on the terrorist threat from Iran, stressing that Washington is trying to evade responsibility and hush up the discussion of the main issue for which a meeting was convened, namely, the illegal alienation of Iranian property," Jelalvand said.
READ MORE: Iran Files Lawsuit Against US Over Sanctions
She added that the US has been using a similar practice for several decades, threatening Tehran and blocking Iranian assets under various pretexts without turning to international courts.
"Iran, in turn, acts strictly in accordance with international law," Jelalvand stressed, recalling that Tehran recently filed a lawsuit against the US via the ICJ in connection with the violation of the bilateral treaty of friendship, economic relations and consular rights of 1955.
When asked whether Iran would be able to unblock its frozen assets and prevail over Washington in the ICJ, Jelalvand called the US a superpower which has long felt its impunity and ignored all international institutions and the international order as a whole."
READ MORE: Iran to Keep Opposing Unlawful US Sanctions Destabilizing State — FM
"They can at any time lodge charges against any country they do not like. For example, they accuse Iran of involvement in the terrorist attack in Beirut in 1983, although the US has no documents or evidence of this involvement," she noted.
Jelalvand underscored that the ICJ made this decision on alienating Iranian assets after consulting the Iranian side, which she said "runs counter to international rules and violates the rights of Iran and the Iranian people."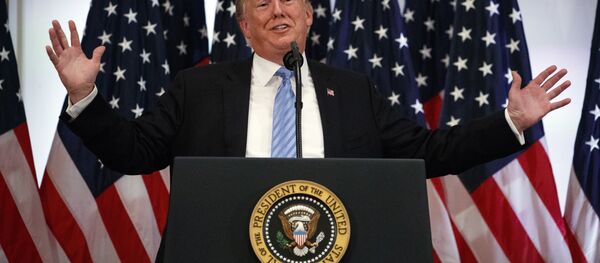 27 September 2018, 17:53 GMT
Earlier in October, ICJ judges handed a victory to Tehran, which claimed that US sanctions imposed in May violate the terms their 1955 Treaty of Amity.
The ICJ demanded that the US should suspend sanctions on Iran related to humanitarian aid and spare parts supplies for civil aviation.  Tehran welcomed the UN court's ruling, emphasizing that it proves the US sanctions against Iranians are "cruel and illegal."
The views and opinions expressed by Maryam Jelalvand are those of the lawyer and do not necessarily reflect those of Sputnik.