Scott Edwards, co-director of the Food & Water Justice project at Food & Water Watch, joined Radio Sputnik's Loud & Clear Monday to discuss how the agency is suffering under the Trump administration.
Since 1998, "this program has always existed as a sort of advisory board. Some folks have credited it to making good, protective recommendations to agencies that can pass regulations. They have [had] a staff that is dedicated to estimating these things and making recommendations in the past, but even that minor role is being gutted these days," Edwards told hosts John Kiriakou and Brian Becker.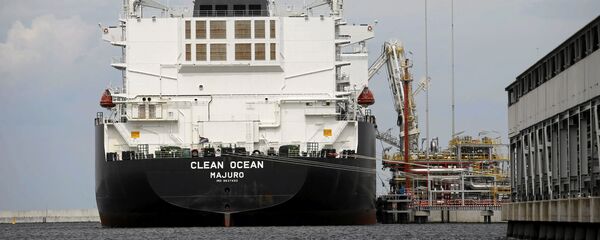 24 August 2018, 14:23 GMT
The Chemical Safety and Hazard Investigation Board is responsible for investigating incidents such as chemical plant accidents and oil spills, like the devastating 2010 explosion on the Deepwater Horizon oil rig off the coast of Louisiana in the Gulf of Mexico.
Although the organization doesn't have any power to issue regulations, it can make regulatory suggestions to groups that do have that power, like the Environmental Protection Agency. However, the Trump administration is trying to upend many Obama-era rules, such as the EPA regulation that chemical plants have to establish more safety requirements to protect against explosions.
"Sunoco will do whatever it wants, as well as ExxonMobil, as well as the rest of the fossil fuel and gas industries. If there is something on the books that they dont like, they will get it removed from the books, even if it's by the EPA. This administration has shown time and time again that its number one priority is to allow the oil and gas industry to do whatever they want," Edwards added.
"These companies have an administration that is literally destroying all safeguards, any kinds of safety and environmental assets. We're going to see all kinds of accidents and explosions. The 230 pipeline explosions between 2010 and 2016 in this country is the result of this rush to continue to expand oil and gas production," Edwards noted.
According to a report released last week by the Wall Street Journal, insiders at the Chemical Safety and Hazard Investigation Board feel like they are under pressure from the Trump administration to halt their regulatory recommendations.
For example, the agency was asked to investigate a 2016 incident in which a Sunoco pipeline in Texas caught fire during welding work. The group originally wrote a report recommending mandatory safety requirements for companies involved in pipeline welding. However, this year, leaders in the agency removed the regulatory recommendation and instead told employees to recommend voluntary changes. 

15 October 2017, 00:33 GMT
"The drivers for doing investigations changed in 2017 with the new administration coming on," Johnnie Banks, a former investigator for the board, told the WSJ.
"They never hung [US President Donald Trump's] picture, but you always felt his presence there," Banks added.
However, according to the interim head of the agency, Kristen Kulinowski, she hasn't been in contact with the White House and doesn't feel any pressure to change the organization's way of doing things.
"The independence of the agency is incredibly important," Kulinowski noted. "We need to maintain that same level of technical rigor and same approach to our investigations no matter who's in the White House. And we've done that."
That being said, around half of the board's investigators have quit since Trump came into office.